In 2019, Canadian municipalities issued $102.4 billion in building permits, up 2.6 per cent from a year earlier. 
A sour note in the national numbers is Alberta, which recorded the largest decrease (down $1.8 billion) in Canada, with declines in all building types. 
This compares with a 17.8 per cent year-over-year increase in Manitoba, led by a surge in non-residential building; a 12.9 per cent decrease in Saskatchewan; and a 2 per cent decline in British Columbia, despite a 5.8 per cent rise in B.C.'s non-residential construction. 
Most of the national permits were in the residential sector, but non-residential permits posted the biggest gain year-over-year with a 9.4 per cent increase to $40.4 billion, according to Statistics Canada. The commercial sector, such as offices and retail, accounted for $23.2 million of all non-residential construction. 
That construction comes with a cost, as detailed in the Altus Group's 2020 Construction Cost Guide. The annual guide is trusted as a budgeting tool by public bodies, developers, lenders, contractors, consultants and various industry professionals.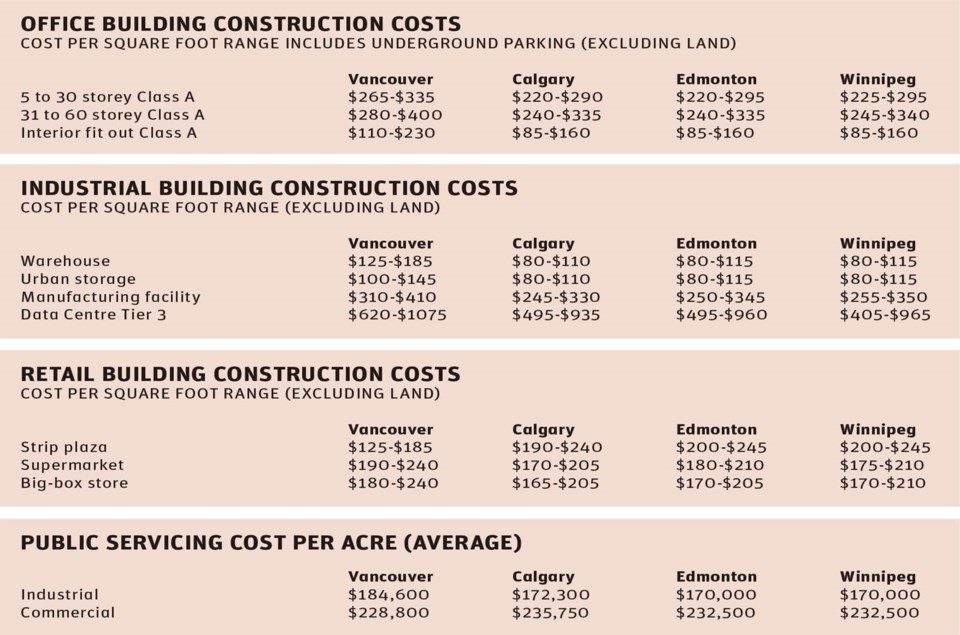 Note: While using the Altus Construction Cost Guide helps develop a preliminary project financial plan, we strongly recommend you seek professional expert advice to provide a more precise, project-specific estimate and pro forma. The construction costs presented here represent hard costs only, and do not include soft costs, including legal and insurance costs, government fees, financing costs, environmental costs, property taxes, marketing and sales costs and commissions, or the developer profit. 
Altus has included the cost of the provision of public services, per acre, for an industrial development and a commercial real estate development.