Those who are applying for or renewing fixed-rate mortgages this year may have some good news, as economists are predicting a decline in the average five-year discounted contract rate.
While the Bank of Canada (BoC) is expected to hold firm on its overnight interest rate, which dictates variable-rate mortgages, fixed-rate deals are expected to improve somewhat over the next two quarters, according to a quarterly outlook from the economics division of the B.C. Real Estate Association.
Due to low government bond yields, the association is expecting the five-year qualifying mortgage rate to fall from 5.34 per cent in the first quarter of 2019, to 4.99 per cent in the second quarter, and then drop to a low of 4.84 per cent in Q3. It is then predicted to gradually climb back up to its current position through 2020.
The average discounted contract rate for a five-year fixed mortgage is forecast to fall from its current 3.44 per cent to 3.0 per cent in summer 2019, and start moving back up later in the year and through 2020.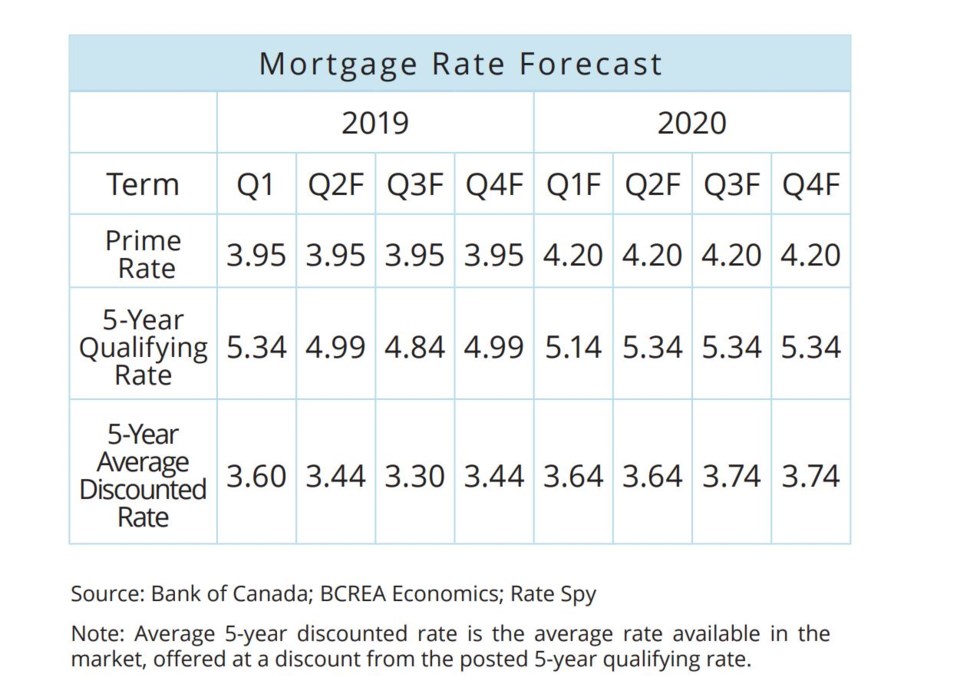 Some 80 per cent of mortgage holders choose fixed-rate mortgages, and better deals becoming available this year could prompt a spike in mortgage applications and refinancing, says Mortgage Broker News.
Whether the BoC will raise or lower the prime rate in the face of economic uncertainty has recently been much debated. BCREA said it expected the BoC would continue to hold steady on its prime rate, which dictates variable rates. The report said, "While there is an outside chance of a rate cut from the Bank of Canada, our baseline is for the Bank to remain on hold in 2019. Therefore, we are forecasting no change in the prime rate, from which variable rates are discounted."
RBC Economics agrees that the BoC will hold the prime rate this year. In its recent housing affordability report, Craig Wright, RBC's senior vice-president and chief economist, wrote, "We have lowered our profile for future interest rates in light of disappointing economic developments since the late stages of 2018. Furthermore, we also see very little scope for home prices to increase nationally this year."
The BCREA's outlook added that if the BoC eventually moves towards a higher "neutral" interest rate, which is the long-term plan, the higher level at which mortgage applicants are stress-tested will make it too difficult for them to qualify, and will render that policy "unsustainable" in its current form.