It's a revolutionary business structure to assist in raising seed capital and investment opportunities and provides highly secure, dependable tax savings for both investors and developers. Axiom provides a turnkey solution.
Axiom Advisors Inc. has launched a new and expanded Mutual Fund Trust (MFT) that offers more flexibility to investors and builders while also preserving their peace of mind that all tax and legal issues have been dealt with.
"An MFT is a private trust that allows users to invest into the trust using a registered account such as an RRSP or a TFSA," explains Axiom president L. Evan Baergen. "It looks like a limited partnership, it acts like a limited partnership, but the main difference is an investor can't use his RRSP or TFSA to invest into a limited partnership, but he can into a mutual fund trust – that's the big distinction and advantage."
While the MFT concept isn't necessarily new, Axiom's take on it is. Other iterations of the MFT structure are limited in scope and do not provide the minimum 150 initial investors required for CRA approval. Axiom's turnkey MFT supplies both.
The big change for developers is that the new MFT allows them to facilitate multiple offerings for multiple projects using only one MFT structure while isolating one class from another. Each class of units in the MFT will continue to be eligible to receive registered funds – RRSPs or TFSAs – from investors and will provide tax-efficient, flow-through features for each project.
"We set out to say, 'how can we, as best as possible, firewall each class of units?'" adds Axiom CEO, Dwight Martin. "When we create an MFT for a developer, they can put multiple projects in it, and those projects are legally separated from other projects. Likewise, investors in one project are legally separated from investors in other projects, all in the same MFT. This approach is much more cost-efficient for developers."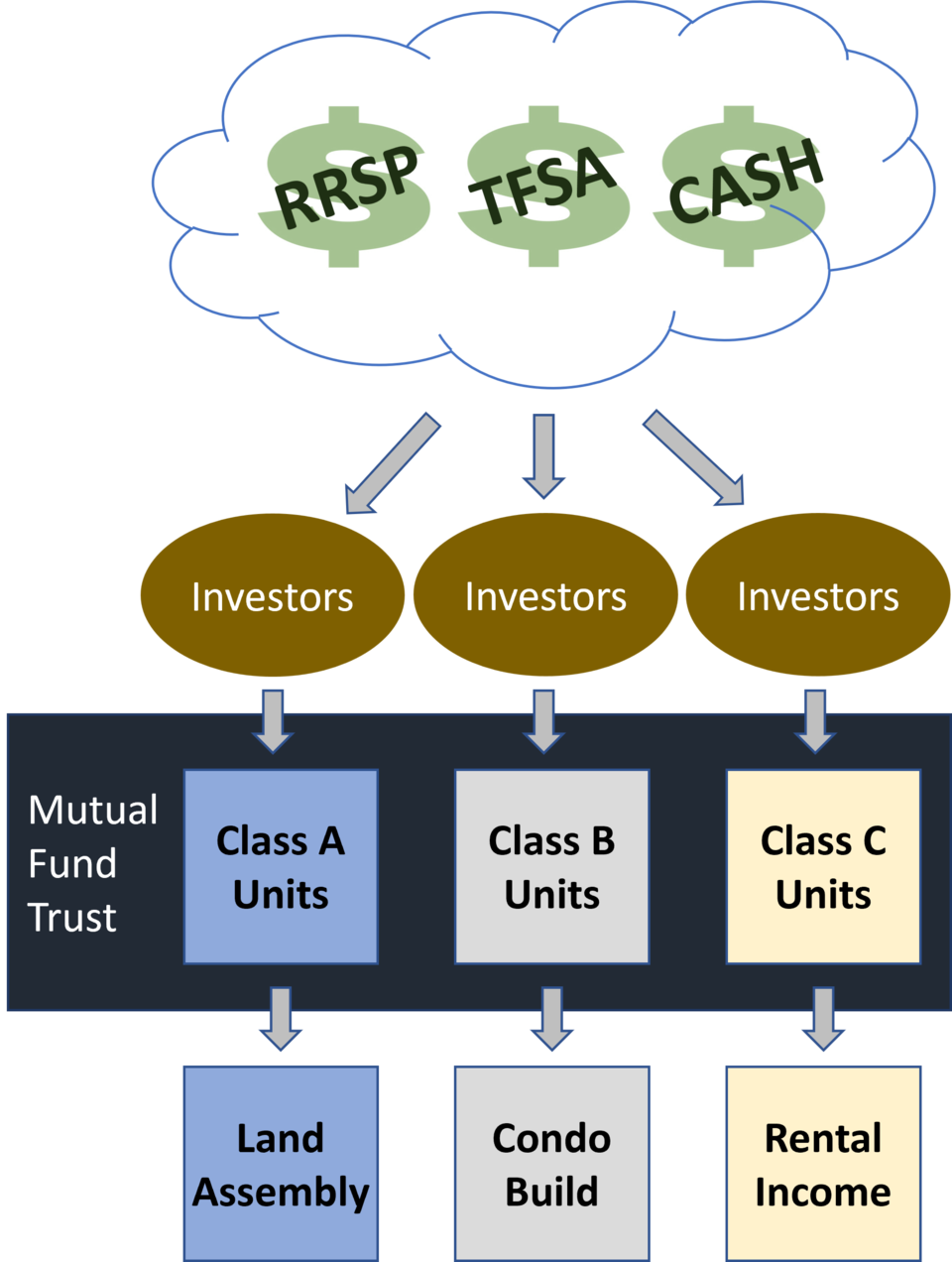 This is the ideal way to attract seed capital for those in the building industry looking at projects in the range of $1 to $10 million. Picture a townhouse development in Langley or a four-storey walk-up in Kitsilano. It is also the perfect setup for the developer building the $5 to $10 million development or any small group that needs to raise seed capital to obtain the land, start the project, and bring in the bank funding after the fact.

"If you want to attract the most investors possible, you should have a structure that can attract the most capital," Baergen explains. "In Canada, that means going after registered funds with a structure like an MFT."

This new MFT allows all types of income and capital gains to retain their characteristics and be passed through to the MFT investor — an extremely attractive and salient point for investors. Developers have also commented on how much easier it is to raise capital if investors are able to use their RRSP/TFSA accounts when investing in the MFT.

"What attracted me to Axiom's MFT structure was the uniqueness that allows me to raise funds from investors with registered accounts while developing multiple real estate projects using one MFT. Since each project is isolated from the other projects, it effectively reduces the cost of the MFT," describes Dan Heon, CEO of Desmond Group.
The Axiom advantage also includes all the necessary housekeeping work that allows the developer or investor to focus singularly on the task at hand.
There are two choices in that respect. The first sees Axiom provide clients with an MFT and assist with the structure and setup to ensure everything flows through correctly. Or, for a monthly fee, Axiom also offers a service where everything is managed on the backend: accounting, tax reporting, subscription agreements, security filings, and both paying and communicating with investors.
"We do all that for them, allowing the client to find investors and manage their projects. Axiom takes care of everything else for them," Baergen explains.
It's precisely this model that will serve as the backbone for a series of projects headed by River Valley Estates in Cranbrook.
"Working with Axiom to set up the MFT was seamless," says Andrea Warkentin, CEO of River Valley Estates. "Axiom guided and advised me throughout the whole process. They are a very experienced team."