The gorgeous mountainside community of Burke Mountain in Coquitlam, B.C., is one of the largest greenfield development opportunities in the region. The City of Coquitlam is one of the area's major landowners and has been selling off sites for residential development that are being snapped up by local developers.
One reason for the enthusiasm is that the City has masterplanned a brand new village centre for the area – Burke Mountain Village. When this is complete, the 39-acre Village will offer 120,000 square feet of retail including a large grocery store, a public plaza, a brand-new community centre, and approximately 2,000 residential units.
Five minutes' walk west of Burke Mountain Village, in the joyfully named Smiling Creek neighbourhood, a pair of prime development sites are now being marketed for sale by the City. These sites have pre-paid Community Amenity Contribution fees and are ready for a development permit application.
Curtis Scott, manager of City Lands Development at the City of Coquitlam, tells Western Investor, "These sites are fully serviced, zoned for townhouses and development ready. We've eliminated a lot of the risk by taking care of the rezoning. Together the two sites total 9.5 acres, and the City's conceptual plan for the land is that it will eventually house 166 townhomes, duplexes and triplexes. That's 70 units on the north parcel, and the south parcel would be approximately 96 homes."
The future developer of the land wouldn't necessarily be forced to stick to that housing configuration, but, as Scott says, "We do register guidelines on land title. Once we've sold the land, we work with the developer to try get certain elements that we're looking for. This is not a piecemeal approach – we do have a masterplan for the whole area, and we look to connect parcels to the Village, and create different housing types."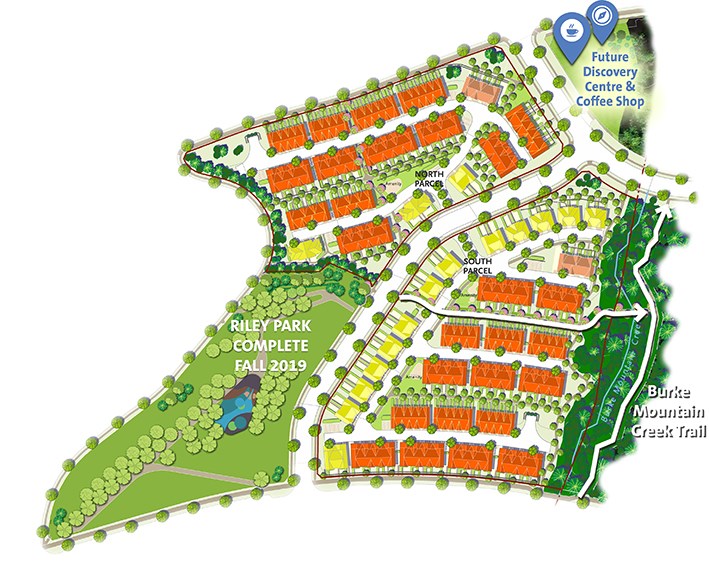 Burgeoning area
As this is a mountainside site, the future homes will offer residents incredible panoramic views of the Fraser Valley, Golden Ears mountain range and Mount Baker. The land parcel is also close to incredible nature trails, and yet is only a 10-minute drive to Coquitlam City Centre, which offers all the amenities of an urban hub as well as SkyTrain and West Coast Express rail links. This combination of urban and natural amenities makes it even more appealing to homebuyers, especially families.
"This is a burgeoning, fast-growing area," says Scott. "South of the site, in the Baycrest area, companies such as Mosaic Homes are developing new townhome communities. We own a lot of the land north of Baycrest, and we have sold more land for development. Polygon is already marketing its Kentwell townhome community for sale, just south of these sites."
Scott adds, "Being so close to Burke Mountain Village, this is a unique development opportunity. The parcel is also immediately next to the brand new Riley Park, which is scheduled to open this September."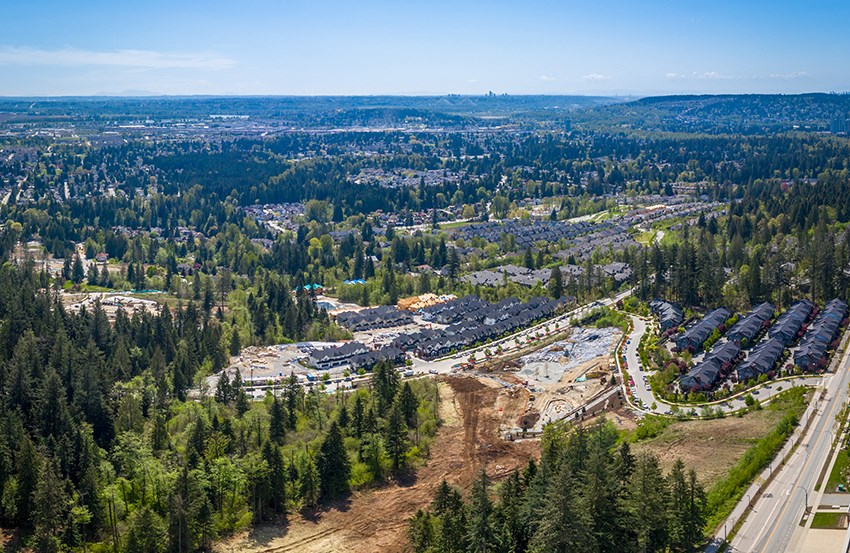 Family-focused amenities
Riley Park, which is completing construction and will see a ribbon-cutting in September, is a stunning 3.5-acre neighbourhood park designed with families in mind.
Andre Isakov, the City's park planning and design manager, says, "Riley Park is on a sloping site, with absolutely incredible views from the top down the valley, so we're making the most of that. There's a viewing platform with binoculars, a seating area with porch-swing bench, and an playground with unique play features, including a regular slide and a roller-slide that use the slope of the land, a climbing tower, a standing swing, and musical chimes for the children. There are also picnic areas, lawn spaces, plenty of trees for shade, a couple of hammocks and areas for resting."
Isakov adds, "Burke Mountain is all about lifestyle, and part of building a complete community is ensuring that there is really good access to parks, outdoor spaces, trails and nature – and connecting all those spaces together. It's all about the outdoors, and we really try to create spaces that people love and appreciate – the community really responds to that."
The combination of idyllic outdoor spaces outside your front door with walkable retail stores and restaurants on the horizon means these development sites are fully primed – and the demand for homes in areas such as this is high.
With so much development happening in this stunning corner of Coquitlam, developers would be wise not to miss out on one of the few remaining large-scale, multi-family development opportunities on Burke Mountain.
For more information on this amazing development opportunity, go to www.coquitlam.ca/landsales