Kitimat. Until recently, that name conjured up a little-known town with a population of less than 9,000 in north-west British Columbia. But today, Kitimat is a town known around the globe for one thing: the single largest private-sector investment in Canadian history.
With the announcement of LNG Canada's $40 billion project, everyone is looking to get in on the action, whether they're an energy worker, a contracting company, a product supplier, a facilities service companies, a land developer or an individual real estate investor. The opportunity is enormous for many – and a real challenge for others trying to find a way in.
Jason Pender, a real estate developer, investor and principal of JV Dev Group, and his development partner, Leonard Kerkhoff of Kerkhoff Construction Ltd., are two local players who stand to reap the benefits from the LNG deal. Having made a land purchase in Kitimat four years ago, they are confident that it will now pay dividends – not only to their development group, but also to those who buy into their new residential community, Riverbrook Estates.
"The lights went out"
In 2014, a development group comprising Kerkhoff Construction, JV Dev Group and three other partners purchased a 27-acre parcel of land in downtown Kitimat, when the LNG deal was first on the table.
Pender tells Western Investor, "Things were going great. Then in 2015, the natural resource sector took a huge global downturn. LNG in Kitimat took a pause and, in 2016, the front runner, LNG Canada, announced they would delay a decision indefinitely. All the lights went out."
The group's land parcel had achieved a lot before those lights went out. Some of their 27 acres had been rezoned into two phases of new townhomes of 93 units in total, and the development group had passed third reading on a 70- lot bare land strata site. There were an additional 32 single-family lots, with the potential to rezone half into two multi-family sites, for up to another 100 units. At close to 300 units, Riverbrook Estates was set to be the largest residential development in Kitimat in 50 or 60 years.
Then, in early October 2018, LNG Canada was approved, and, as Pender puts it, "The lights went back on. We had already accomplished a lot of ground work at Riverbrook Estates. We were ready to go then and we are ready to go now. Riverbrook Estates is significantly further ahead of any other residential development project in Kitimat."
"Not since the gold rush"
Leonard Kerkhoff, President of Kerkhoff Construction, is extremely confident about Kitimat's prospects. He says, "This town is about to go through unprecedented economic growth, the likes of which has not been seen since the gold rush of the mid-1800s. Kitimat is the centre of an LNG energy industry well regarded for its lesser impact on the climate, and used the world over, which is just now making headway in Canada."
The LNG Canada project is set to bring a potential $18 billion of construction work to the town of Kitimat alone. The town's population, last pegged at 8,131 (2016 Census), is expected to triple in the coming years as skilled workforces and management teams move in. In addition, three other LNG facilities are also under development, aiming to ride in on LNG Canada's coattails. This includes Chevron's proposed facility, which – if approved – could bring a further decade of development in the LNG industry to Kitimat.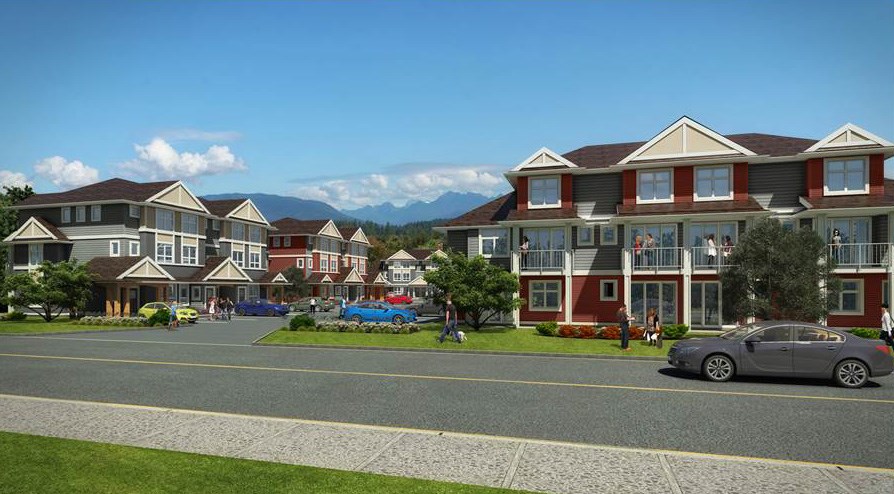 "Explosive housing demand"
Since October, Kerkhoff has been in discussions with major contracting and engineering firms, such as Fluor, Ledcor, Graham, Stuart Olson, Seaspan and Mammoet, about the pressing need for rental housing in Kitimat for their management staff. With a new workforce of 7,000-10,000 workers, if even only 10 per cent require permanent homes, this represents a demand for 700 to 1,000 new homes, says Pender. He points out, "The management staff for the largest energy contract in Canadian history cannot be expected to live in a work camp." And those estimates do not factor in new homes needed for the likely increase in support workers such as retail and hospitality staff, medical support workers and ancillary services companies.
A 50-year-old construction company, Kerkhoff Construction has been building in the region for more than five years, and has become the largest residential developer in Kitimat. Completed projects include Baxter Landing, a 36-unit townhome project, and a 49-unit condo building at Haisla Town Centre for the Haisla Nation.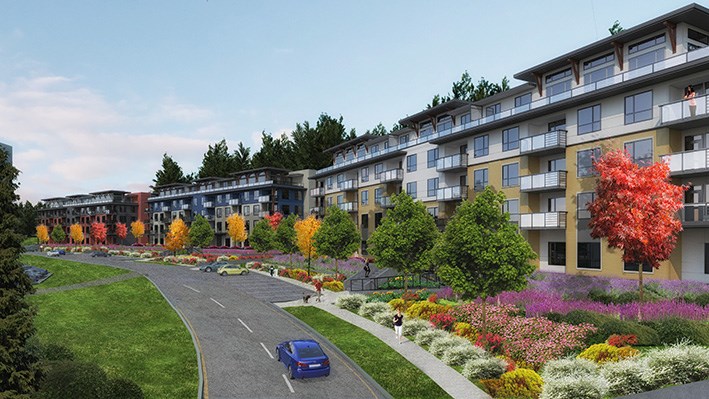 These are the first and only multifamily projects to be built in Kitimat in 50 years. "These projects have brought much-needed new homes into Kitimat to replace the aging homes built by Alcan in the 1950s and 60s, many of which are reaching the end of their life," says Pender.
He adds, "Kerkhoff Construction is definitely the best positioned and furthest ahead of any other developer-builder to deliver new homes for the explosive demand Kitimat will require in the near future."
"The timing is exceptional"
With Riverbrook Estate's first phase of 47 new townhomes coming to the pre-sale market at the end of November 2018, and occupancy expected in spring 2020, now is the time for investors to get a piece of the action, says Pender.
"We believe the timing is exceptional, as LNG construction will be ramping up and in full swing and housing needs will be at an all-time high. Whether you're an investor looking for price appreciation and cash flow, or you are looking for a new home to live in for the next decade of economic growth in this region, these are exciting times as a developer and for those buying an investment to live in or rent out."
To register or for more information about this exciting development project, go to http://riverbrookestatesliving.ca or contact Jason Pender at: www.jvdevgroup.com or email jason.pender@shaw.ca