The signs of progress on the horizon are becoming increasingly clear. North Cowichan on Vancouver Island is advantageously positioned to experience strong growth, with a secured economy over the next few years and infrastructure that supports both commercial and residential development; the latter specifically targeting the critical housing shortage.
This evolvement is thanks in part to: (1) the Cowichan District Hospital Redevelopment Program, currently in the design and construction phase; (2) the new North Cowichan/Duncan RCMP detachment building, with completion scheduled later this year; and (3) the North Cowichan new Official Community Plan (OCP), with a focus on the Bell McKinnon neighbourhood, adopted in August 2022.
Since these developments, Commercial Properties Group has established a foothold in the area, equipped with a team of highly-skilled brokers to advise on emerging market opportunities. "We have experience and a track record in North Cowichan, and have already completed a handful of deals," says George Richmond, Personal Real Estate Corporation and senior vice president, Commercial Properties Group.
"With a newly designated OCP, we can work really well with homeowners selling their properties to developers."
Richmond and his business partner Rebecca MacLeod, Personal Real Estate Corporation are optimistic that the region hosts a vast potential for both residential and commercial development.
North Cowichan is the largest municipality in the Cowichan Valley Regional District (CVRD). A sprawling region framed by ocean, rivers, and mountains, North Cowichan spans 194 square kilometres of striking landscapes and fertile farmland, traversed with abundant recreation options and urban conveniences, an ideal place to live, work, and invest.
New expansion hospital, Bell McKinnon neighbourhood

The new Cowichan District Hospital, projected for completion in 2027, will deliver integrated health services across the Cowichan Region.
"Since the site work is already underway, there is an opportunity for developers and investors to get in early before the servicing," says MacLeod.
"Servicing will be brought down Bell McKinnon Road by the municipality, prior to completion of the hospital. Once the hospital opens it will amplify the opportunity, further pushing up pricing of these lots and land."
The labour force will continue to thrive as job opportunities increase across sectors, incentivizing newcomers and, particularly, attracting healthcare professionals.
MacLeod points out the numerous auxiliary uses around the hospital: "Island Health will need tens of thousands of square feet of office space, doctors and specialists will require private offices next to the hospital, and there will be restaurants, coffee shops, gift shops, and uniform sales. It's going to create its own little epicentre.
"There will be further demand for more housing in the immediate area, because people will want to be close to all these amenities."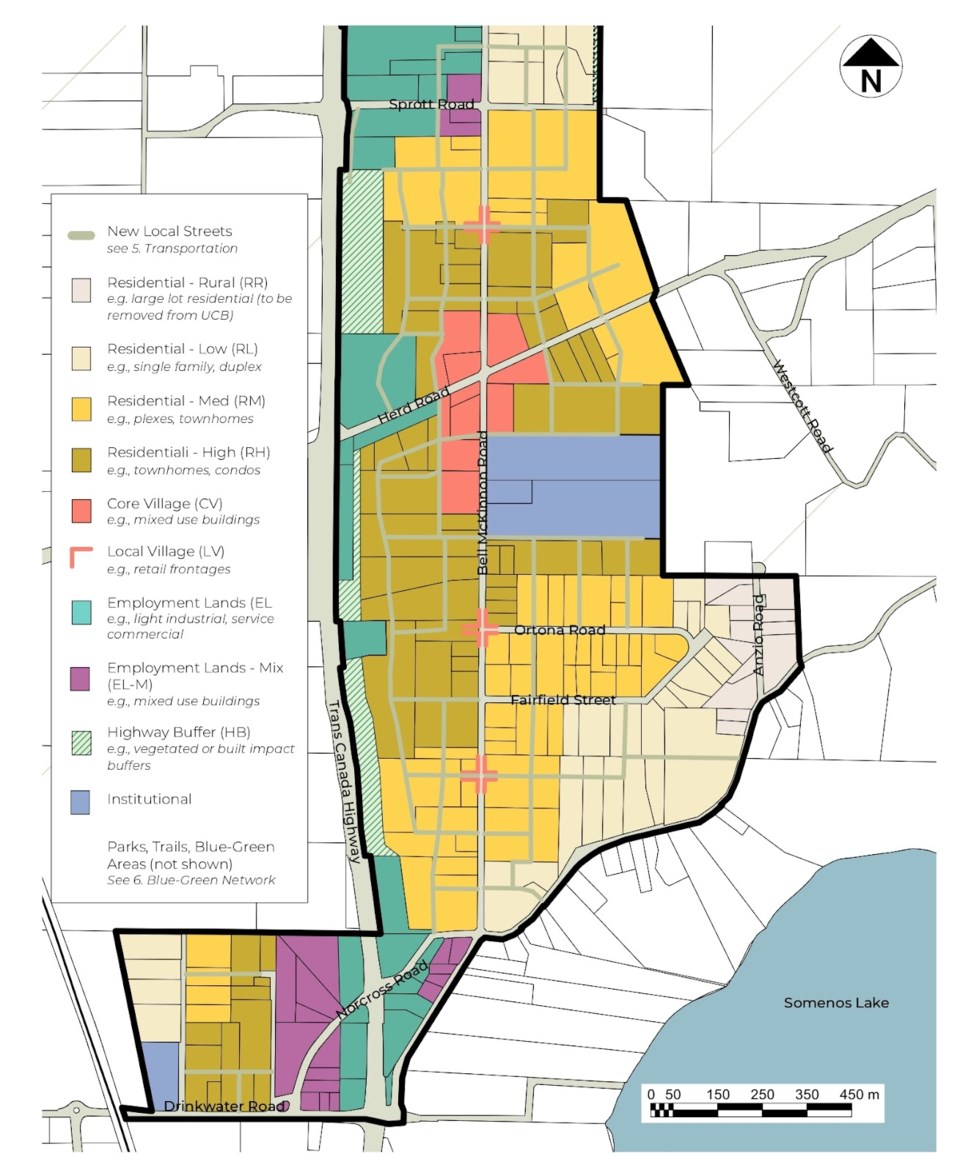 Moreover, with the investment of a larger RCMP detachment, there will be employees who will want to live in a nearby community, which demonstrates a need for housing this future workforce.
"To have a hospital and the OCP here, plus the huge housing demand, will make a very secure market for any developer looking to build product to fill the need."
Developers who secure a property with a long close won't have to pay the full price for two to three years, allowing time to work on their permits and rezoning applications. "In that time, it's possible that the property value could increase substantially, and the equity can be rolled back into the project, helping further finance it," explains Richmond.
"Once the hospital is finished, people will be looking at this area and wishing they would have bought two or three years prior."
For more information, contact commercialpropertiesgroup.ca