The 1,008-acre Anniedale-Tynehead neighbourhood in Surrey, south of the Trans-Canada Highway, is gearing up to be a Lower Mainland hot spot and the next Morgan Creek. A massive masterplan has long been approved for the area, comprising large-scale multi-family residential, commercial, industrial and retail development.
One huge advantage is that Anniedale-Tynehead already has prime transportation infrastructure upgrades, which usually come after an area is developed. These include the Port Mann and Golden Ears bridges, the South Perimeter Road , Highway 10 (176 Street) and 96th Avenue, as well as future rapid transit connectivity, making this area truly unique as a development opportunity.
Chuck Westgard and Norm Porter of Beech Westgard recognize the efforts of Dimple Gill of Oakwyn Marketing, Hardeep Gill at Sutton Group West Coast Realty, and Rod Sopko of Royal Pacific Realty, in assembling in excess of 150 acres of land necessary to make the project viable.
Now, Beech Westgard, the masterplan's key developer, has secured a bond of $35 million to back the development of essential infrastructure and services to the huge site, which was arguably the biggest roadblock facing the masterplan.
Patrick Klassen, community planning manager at the City of Surrey, explained, "This next stage is bringing in a large sewer trunk, a sanitary pump station, stormwater facility and drainage ponds. The servicing was a big hurdle to opening up this area. These are all the services necessary to be able to move forward with developing individual sites."
The contractor for the servicing work is Tybo Contracting, which put its first shovels in the ground April 6 for the infrastructure project. Shane O'Donnell, principal general manager at Tybo, said, "Nothing happens without services. It is really the backbone of the whole masterplan. Once that is in place, all other development can spin off from there." The servicing project is expected to take 18 months, but subsequent development would be able to start its early stages before the infrastructure is completed.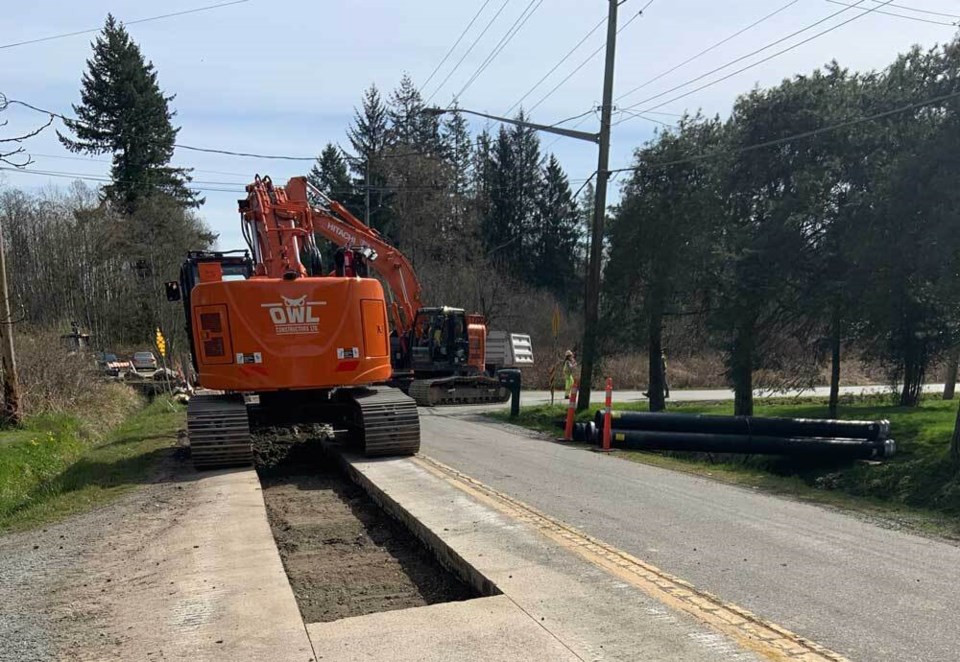 The new vision
Having cleared the servicing hurdle, it is now time to update the entire masterplan to bring it to today's standards. Klassen said that the original Neighbourhood Concept Plan (NCP) for the area is now quite outdated. "It was approved a decade ago, and included a central core comprising a big-box retail supercentre. That's kind of an old-school way of thinking. So we are working with the developer, who will shortly submit a new development application to propose a large-scale amendment to the Anniedale-Tynehead NCP, which should be completed early next year."
He explained, "The intent is to reimagine the community into a compact, walkable, green neighbourhood centred on a mixed-use urban village, which will have shops on the ground floor and residential above, as well as new plazas and community parks. Residential high density will be focused in that core area, and will get lower further out." The concept is to ensure families are able to afford housing alternatives and to build a community.
The original plan already included several elementary schools and one high school, plus a community recreation centre. Klassen said, "The school district has already purchased two of the schools sites, so we are uniquely positioned to see the schools developed concurrently with residential development. And through the update we'll make sure the community centre and parks are now in the right position." Other parts of the site are also being repurposed, with industrial developments to be planned for the east of the site, strategically located next to Highway 1.
An outstanding opportunity
As the masterplan is built out over the next decade or two, the City expects that it will ultimately bring in 25,000 new residents or more, said Klassen.
Developer Beech Westgard is a key proponent in developing this massive new community, but many other sites within the overall NCP are not yet owned by developers or are still to have planning applications submitted. That makes Anniedale-Tynehead an extraordinary opportunity for land investors and developers, as values are expected to rise significantly, as they did in other parts of Surrey when they were built out, said Dimple Gill of Oakwyn Marketing.
Gill said land prices in Anniedale achieved $2.6 million per acre just over a year ago. With the services now going in, he expects that price will reach $3.5 million to $4 million over "the next year or so" as the services are completed.
What's more, the City is committed to working with developers to create an expedient process. Klassen added, "We're making sure the new NCP maximizes the developability of all sites in the hundreds of acres within it. We would work with anybody who wants to build in the area, updating the NCP as we go along. That way, when we take the amended plan forward, we could have a range of development applications advanced, all while the servicing is being done."
For more information on land opportunities in the Anniedale-Tynehead NCP area, contact Dimple Gill at Oakwyn Marketing on 604-726-0642 or dgill@oakwynmarketing.com