With the year coming to a close, the Canadian real estate market has been awash with new statistics and reports, such as the release of the Real Estate Board of Greater Vancouver's November MLS® Home Price Index and CBRE's commercial market third quarter sales results. While the REBGV statistics showed a decrease in home sales, CBRE recorded a record-breaking quarter for commercial sales.
In addition, Colliers' International is seeking to rebrand the B.C. technology sector in an effort to assess its affect on office supply and demand on a global scale, while BC Assessment announces its hefty hikes to both commercial and residential properties across the province.
Here are Western Investor's pick of the top four articles that took on these topics.
This week, BC Assessment released a series of previews to advise property owners of the new assessment values to be released on Jan. 3, 2016. The previews were divided into three regions – Greater Vancouver, Greater Victoria and Central Okanagan – with Vancouver values unsurprisingly posting the most significant jump.
Commercial real estate in the Greater Vancouver region will see an increase of 10 to 30 per cent over 2016's commercial property values, the release states. BC Assessment's evaluation of Greater Vancouver includes Vancouver, the North Shore, Squamish, Burnaby, the Tri-Cities, Richmond and Surrey.
Single-family homes in the region post an even bigger increase of 30 to 50 per cent. Multi-family strata complexes will see an average increase of between 15 and 30 per cent.
The commercial increase is less steep as compared to the rise in residential property values as they are generally less affected by fluctuations in the market.
"Commercial properties are also subject to being leased with specific terms in place which can reduce the impacts of a strongly raising or lowering market as that income stream is stabilized over the term of the lease in place," said Christopher Whyte, deputy assessor for the Thompson Okanagan region. 
According to CBRE, the total value of commercial real estate sales in 2016 is on its way to beating a yearly record set in 2007, The Canadian Press reports. The total annual value of sales for 2016 is projected to be upwards of $35 billion, surpassing the $32.1-billion record set in 2007. Investors looked to Canadian properties for stable return on investment, even in uncertain markets, Greg Kwong, regional managing director of CBRE Calgary told The Canadian Press.
In the third quarter, Toronto kept its top spot for commercial investments at $3.5 billion and Vancouver saw $1.6 billion in transactions, with activity in both cities above the 30-month average.
In Calgary, where office vacancies have shot to record highs, sales still managed to jump 146 per cent to $1.2 billion compared with the previous quarter.
Kwong said the ramp-up in Calgary could be maintained because investors are looking at a wide range of assets including industrial and retail properties, though last quarter's spike was driven largely by the Canada Pension Plan Investment Board making a major office space buy.
"We think it's sustainable because demand's not just coming from one sector," said Kwong.
Improved oil prices and market sentiment has also made the city look like a more promising bet for the long term, even if buyers might have to ride through some short-term losses, he said.
TAMI is not a new acronym – but according to a Colliers International report, it is a new way for the Vancouver real estate market to categorize the entire technology sector, which also includes advertising, media and information industries. The definition is geared towards providing TAMI tenants in B.C. with industry-specific office market information.
Collier's tracked 1,743 TAMI companies in their report and found they occupy $9.8 million square feet of office space in the province. As technology firms grow, Colliers' expects to see companies adapting a "flight-to-quality" stance, looking to more high-quality real estate to attract new talent. 
The technology sector alone accounts for 14 per cent of Metro Vancouver's total office space, and as of October, TAMI industries represent 40 per cent of the region's total tenant demand. 48 per cent of TAMI-occupied office space is in downtown Vancouver, 
As demand increases, Colliers believes tenants will look towards class A or AAA buildings. Currently, 92 per cent of TAMI companies favour more cost-effective class B and C buildings. Office space in Vancouver is typically less expensive than in other major TAMI markets. 
Continuing on in its trend of offering up pertinent, statistical infographics, REW took REBGV's November residential resale transaction figures and made them into an easier-to-understand pictograph. REW's graphic highlights the price and sales volume variances between condos, townhomes and detached houses.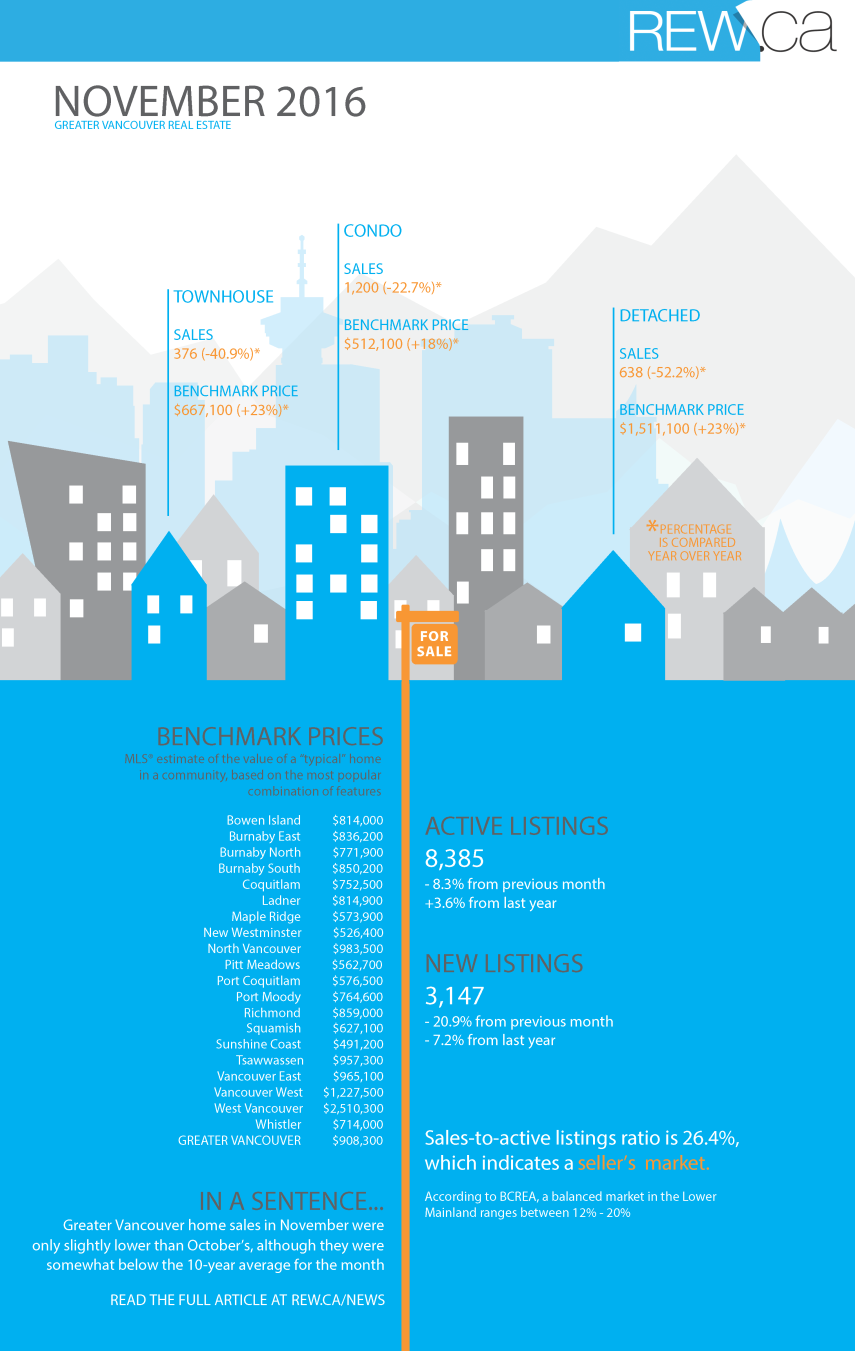 [REW.ca]