It should be to no surprise that the Metro Vancouver industrial market is facing critical supply issues. Pressure to increase the supply of residential product, particularly in more urbanized regions, continues to result in rezoning applications or revisions in community plans for high-density, mixed-use developments in existing industrial areas. This trend is evident in Mount Pleasant, False Creek and pockets around Burnaby, like Brentwood. Decades of this activity, supported by rising demand from industrial occupiers (both traditional and non-traditional), has resulted in municipalities and developers alluding to more creative, mixed-use solutions in their developments and masterplanned neighbourhoods.
The Metro Vancouver industrial market consists of just under 199 million square feet of leasable inventory, of which 61% resides in Surrey (34.5 million square feet), Richmond, (34.3 million square feet), Delta (27.1 million square feet) and Burnaby (25.8 million square feet). Over the last 15 years, Metro Vancouver hasn't had a year of negative absorption (demand) and in 10 of the 15 years, absorption outpaced supply. This has resulted in regional vacancies as low as 1.3% in 2006 and as high as a mere 4.3% in 2010.
Simply speaking, the industrial market in Metro Vancouver continues to be the most versatile and dynamic commercial real estate sector as it evolves to accommodate changing demographics, urbanizations and revisions to community and neighbourhood plans.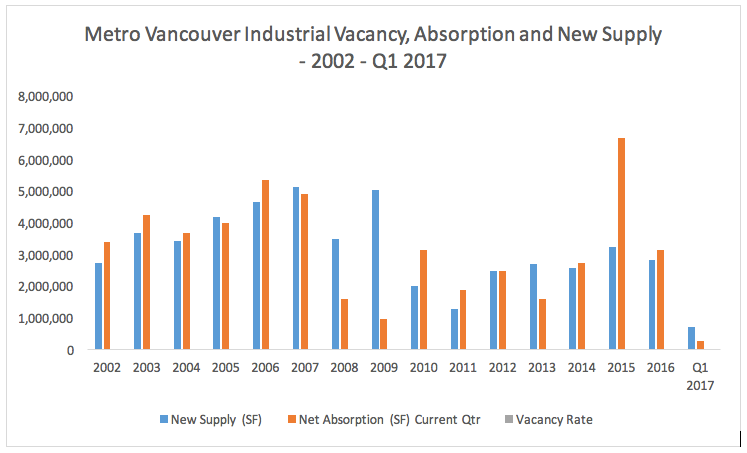 Where is the vacant land?
Based on data provided by Metro Vancouver from its 2015 industrial land study, there are approximately 1,294 parcels of vacant, industrial-zoned land that could be available for development. This equates to approximately 2,260 acres (98.4 million square feet) or 49% of the current industrial property inventory. The majority (84%) of parcels are identified as less than one acre (44%) or 1.0 to 4.9 acres (40%). Close to half (48%) of the available land is within Surrey, with 12% in the Langley Township and 10% in Burnaby (source: Metro Vancouver study here). It is worth noting, that since this study, development activity, supported by a surge of demand, has likely seen a portion of supply absorbed over last two years.
Nevertheless, the fact that the majority of the available land for development lies within three regions and is under five acres, begs two immediate questions:
1. Where can older, underutilized, existing industrial properties become economical for revitalization and intensification?
2. How do the municipalities maximize the current inventory of industrial-zoned land for highest and best use?
The overarching answer: strategic planning through inclusionary industrial zoning and long-term masterplanning.
Recent examples of industrial densification
An example for question number one would be the recent projects in Strathcona and Mount Pleasant where developers such as Chard and Wall Financial have looked to maximize density with multiple asset types, while offering creative space for "new-age" industrial users.
Matt Smith, Vice-President, Industrial, at Colliers International, is one advisor working on both projects. He noted that developers are looking for opportunities in these neighbourhoods to incorporate higher-density, mixed-use industrial real estate. For the previous lessors of the space, Smith notes, the lease rates and operating costs have nearly doubled due to the high cost of land and lack of available space. This has presented an opportunity to "vertically stack" the real estate and offer more creative solutions.
Smith referenced an upcoming project in False Creek Flats where PC Urban is planning to redevelop 1055 Vernon Drive in Vancouver into a multi-storey, light industrial strata project with the incorporation of creative office space. The project will be approximately 105,000 square feet and will be the first truly stacked industrial project in Metro Vancouver within the last couple decades.
Recent zoning revisions in the False Creek industrial area are encouraging the introduction of non-traditional occupiers focused on increased employment opportunities, allowing developers to be more creative with their developments by maximizing density with vertically stacked warehouses. Although the traditional user may be more concerned with loading bays and ceiling height, this type of industrial product caters to the non-traditional user more concerned with employee-per-square-foot capacity, quality of life and location.
Urbanizing suburban regions
While these multi-level, high-density, industrial products are suitable for industrial areas within the urban core, the urbanizing suburban regions will need to address the existing industrial stock and zoned land in a different way. In reference to the second question above, investigating the planning within masterplanned developments in Coquitlam and Port Coquitlam, Fraser Mills and Dominion Triangle, provides an excellent example of how to incorporate a multitude of assets and uses, while maximizing density. Both projects have looked to integrate four asset classes: industrial, retail, office and residential. While the industrial product may not be stacked or incorporate other uses above, the idea of neighbouring light industrial to a medium-density residential site (i.e. townhomes) and big-box retail not only creates the ability for users to conduct commerce and have access to an urban market, but also offers a way to intensify the land and create jobs and housing in a non-intrusive manner.
The addition of other asset classes to industrial neighbourhoods supports the vision of long-term planning for the urbanization of regions. Redeveloping an area with the focus on one use or asset simply does not support the morphology and growth of a city or neighbourhood and can restrict further development. For areas that have the support of infrastructure and are going through revitalization and rezoning, more thought needs to go into what needs to be developed to support long-term goals.