With "CAVE people" (an acronym for Citizens Against Virtually Everything) holding back rental construction and renovations in Metro Vancouver, some investors are solving the issue by looking to other urban markets.
In comparison with the Metro region, the multi-family sector is doing fine in the Thompson Okanagan, for example.
The area, which includes Kamloops and Kelowna, posted nine rental apartment building sales for $86.7 million in the first half of this year, compared with 11 transactions worth $52.4 million in the same period last year, according to a report from Colliers International.
Kelowna, which has a rental vacancy rate of 1.9 per cent, up from 0.2 per cent a year ago, is seeing both the highest prices paid for existing rental buildings and a surge of purpose-built rentals. So far this year, 18 rental projects are under construction, with a total of 1,596 units, including four affordable-housing buildings, which qualify for City of Kelowna reductions in development cost charges.
In Greater Victoria, which has a 1.2 per cent rental vacancy rate, up from 0.7 per cent a year ago, sales of rental apartment buildings reached $191 million in the first half of this year, up from $140 million during the same period in 2018.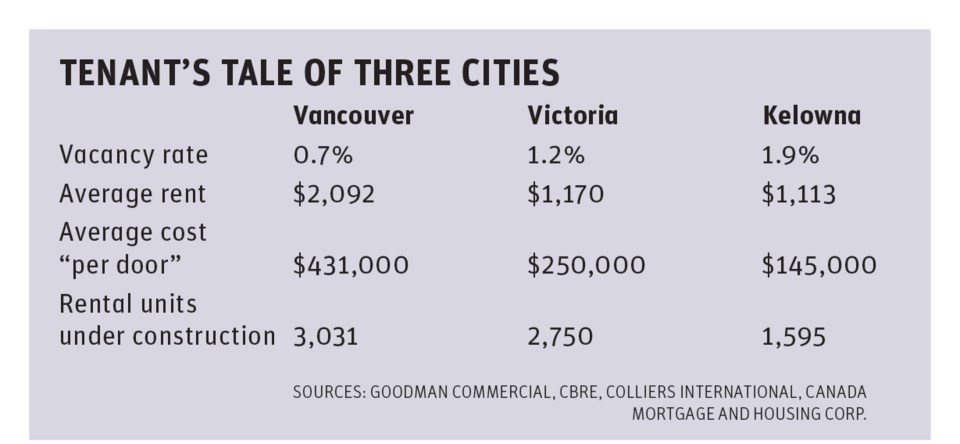 The average price per suite for a rental apartment building in Greater Victoria is now $250,000, up from $215,000 two years ago.
Unlike Metro Vancouver, more rental apartments than condos are under construction in Greater Victoria. As of June 1, 2,750 purpose-built rentals were being built, compared to 2,180 condos, Colliers reports. A further 8,145 rental units are being planned, which is twice as much as the number of condos proposed. 
Of the 20 rental apartment buildings underway in Victoria's downtown, nine are from Vancouver developers, including BluesSky Properties, Concert Properties, Reliance Properties and the Salient Group.