Capitalization rates for multi-family rental properties in Canada are the lowest of any commercial real estate sector, partly because of high demand, according to the recent Canadian Cap Rates and Investment Insights report from CBRE, released in August. 
The multi-family sector remained the most sought-after asset class for investors in the second quarter of 2019, the study found.
"Rock solid fundamentals coupled with seemingly ever-increasing demand should ensure that liquidity for the sector remains abundant," noted David Montressor, executive vice-president of CBRE's national apartment group.
With pricing already at or near record levels across nearly every market, there was very little movement in multi-family cap rates in the second quarter, the report found.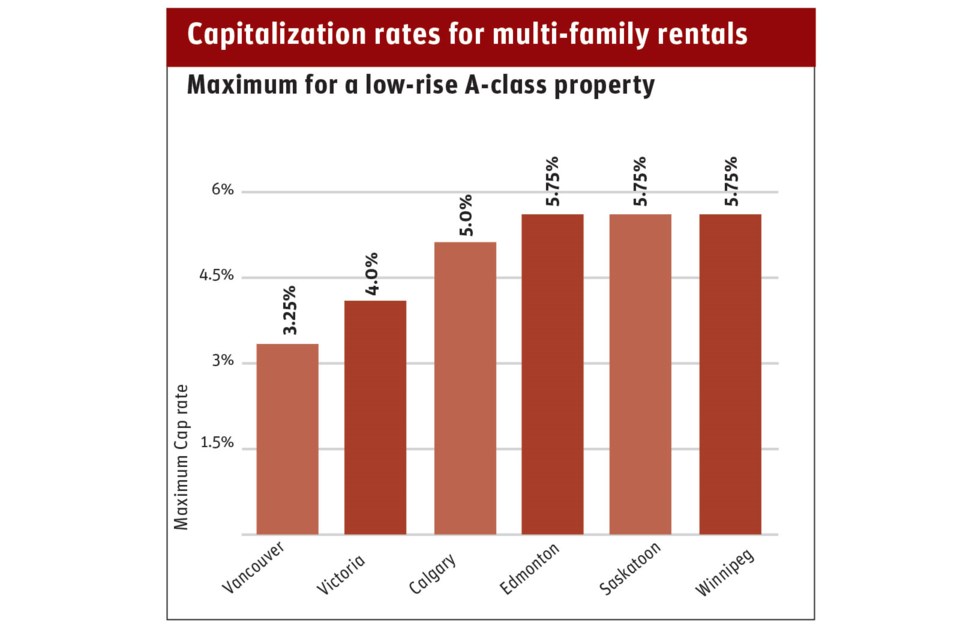 While supply has remained an issue, construction of new multi-family units has ramped up in most major markets across the country, in some cases fuelled by provincial or municipal incentives.
But, since multi-family properties are considered low risk, cap rates remain low compared to other real estate investments.
In Vancouver, as an example, the cap rate for a Class A downtown office building is 3.75 per cent to 4.25 per cent, but the yield on a low-rise rental apartment building is in the 2.75 per cent to 3.25 per cent range. In Edmonton, where an investor can expect a cap rate of around 5.5 per cent on a Class A industrial property, the annual return on an A-class highrise apartment tower is pegged at an average of 4.25 per cent.
In fact, in major cities in Canada it is rare to a see multi-family cap rate exceed 5 per cent, according to the CBRE study.  The exceptions include Winnipeg and Saskatoon, where low-rise apartment building cap rates are in the 5.5 per cent to 5.75 per cent range. • 
Source: CBRE Canadian Cap Rates and Investment Insights, August 2019