Metro Vancouver landlords are looking to suburban markets and deeper into the B.C. Interior to capture higher yields and escape the spiralling cost of buying and owning big-city apartment buildings. Real estate agents say that per-door prices for apartment buildings outside the region are less than half of what they are in Metro Vancouver, yet rents are similar and capitalization rates – the annual yield – can be two to three times higher.
An average one-bedroom apartment in the Metro region rents for $1,370 while the B.C. average is $1,193 per month, according to a Canada Mortgage and Housing Corp. (CMHC)  rental report a year ago.
In an October 2019 survey of more than 2,000 active listings, PadMapper, an online rental-listing firm, pegged average one-bedroom rents in the city of Vancouver at $2,220, down 1.4 per cent from a month earlier. This remains the second-highest rent in the country, behind only Toronto.
A one-bedroom in Burnaby rents for an average of $1,730 per month, while Victoria's one-bedrooms rents for $1,450 per month on average, PadMapper found. Rents in Kelowna and Kamloops are also higher than the provincial average. 
Vancouver landlords are seeing some pushback from tenants, however, according to David Hutniak, CEO of LandlordBC. 
"We've been hearing that there's some softening in the market in terms of rents, and that has been going on for at least six to eight months," Hutniak told Western Investor. "I wouldn't attribute this to a dropping vacancy rate. It is more a reflection of ability to pay."
The average rental vacancy rate in B.C., at 1.4 per cent, is only slightly higher than Vancouver's 1 per cent, CMHC reports.
For investors the price to buy an apartment building, however, is substantially different between Vancouver and outlier markets.
For example, a nine-unit rental building in Vancouver's Marpole area was bought in July for $400,000 per suite. Patrick McEvay, the JLL Canada real estate agent who sold it, said renovated units rent for around $3.25 to $3.50 per square foot, pushing one-bedroom rents to $1,770 per month. This generated a capitalization rate of 4 per cent, about twice as high as the Vancouver average of  2 per cent to 2.25 per cent for older apartment buildings.
But McEvay, with partner James Blair, also a senior vice-president in JLL's multi-family division, also has a 119-unit apartment building in Kitimat, the northern B.C. community hosting the biggest resource project in Canadian history, listed at $125,000 per door. Kitimat apartments that historically rented for less than $1,000 are now fetching $2,000 or more, Blair said. He said rents are projected to increase as the $40 billion LNG Canada liquefied natural gas play gets its workforce up to speed. 
Low-cost mortgages 
Landlords anywhere in B.C. have the advantage of some of the cheapest financing in the commercial market. Apartment building buyers with funding insured through CMHC can access 10-year-term mortgages at interest rates from 2.3 per cent to 2.6 per cent, Blair said. This is lower than most homebuyers can qualify for. It also encourages rental investors to look further afield into riskier markets that offer higher yields.
In Penticton, a lakefront Okanagan community that has a 1 per cent rental vacancy rate, a 52-unit apartment building is up for sale at $120,000 per door. Average rents in the building nudge $1,000 and the capitalization rate, said listing agent Peter Byrnes of Coldwell Bankers, is estimated at 6 per cent. 
In tiny Houston, B.C., a 21-unit apartment building sold in November for $795,000, or $37,000 per apartment. "The cap rate is around 11 per cent," said listing agent Michael Marckwort, a senior associate with NAI Commercial in Vancouver.
JLL is active in the multi-family rental market across the province, and McEvay said private Vancouver investors are mostly aiming for smaller to mid-sized, easy-to-manage apartment buildings that are relatively close to Metro Vancouver.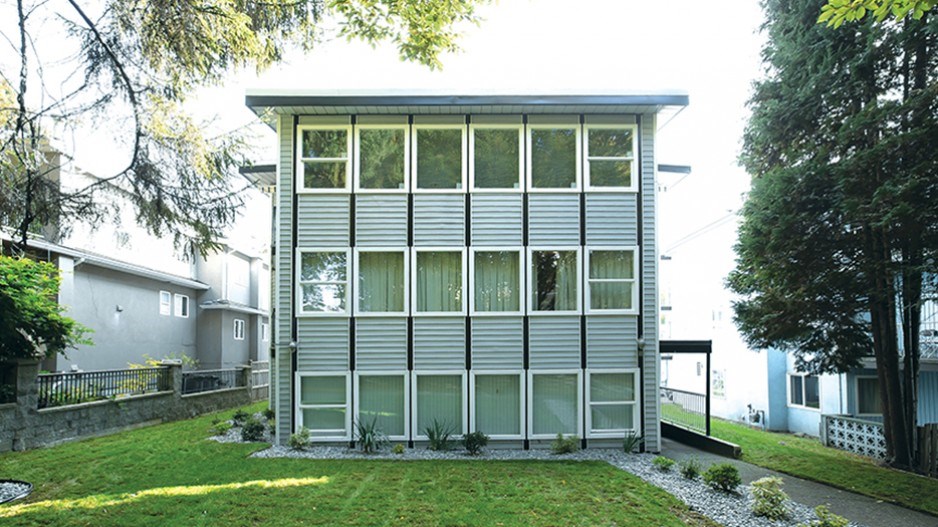 In the Lower Mainland, the Fraser Valley communities of Abbotsford, Mission and Chilliwack are recommended. They are easy to access from the city, per-door prices are much lower than in Vancouver, vacancy rates are in the 1 per cent range and cap rates can easily reach 5 per cent, McEvay said.
He and Blair included Kamloops, Kelowna, Nanaimo and Vernon as specific targets outside of the Lower Mainland.
In all of these areas, vacancy rates are low, quality apartments will rent for $1,200 to $1,500, cap rates are in the 4.75 per cent to 5.5 per cent range and investors can still find apartment buildings for $140,000 per unit, and less than $200,000 in Kelowna and Nanaimo.
Kelowna has seen very low sales of older apartment buildings this year because owners are experiencing tight vacancy rates, Blair said, and average rents of more than $2 per square foot. 
Through the first nine months of this year, 563 purpose-built rental units have started in Kelowna and nearly 1,000 were built from 2017 to 2018. The rental vacancy level is at 2 per cent, according to HM Commercial of Kelowna.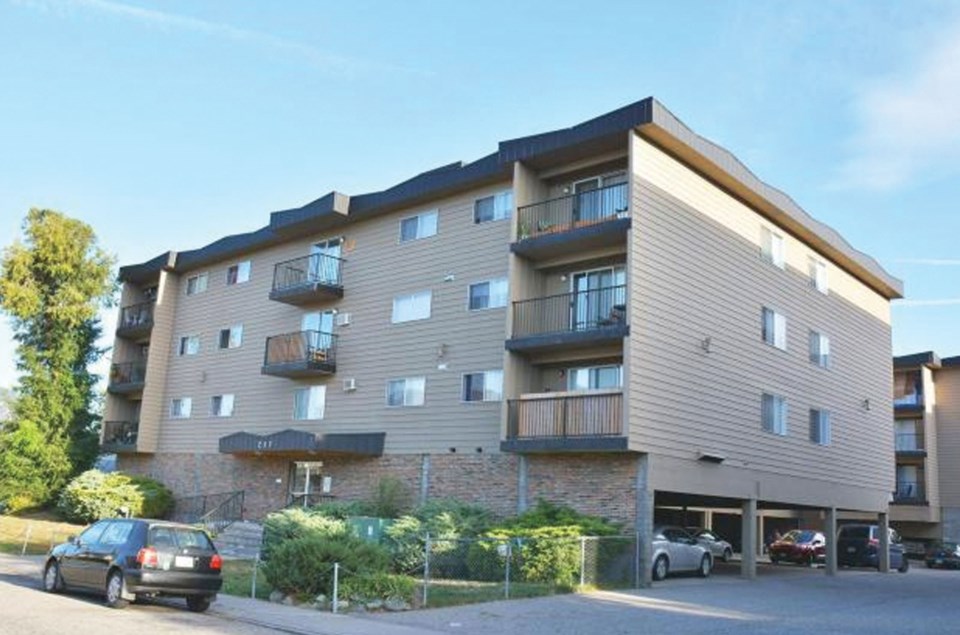 Vancouver Island 
While Vancouver Island can prove problematic for Lower Mainland  investors because ferry schedules can curtail management response, the Island has plenty of landlords looking for and finding opportunities.
A hot spot for investors is Langford, a Victoria suburb that has one of the fastest-growing populations in the province and a municipal government that has encouraged multi-family development, much of which has been condominiums destined for the rental market. Langford's rental vacancy rate is 0.7 per cent, and the average rents for a new two-bedroom is north of $1,600 and is rising by 7.5 per cent per year.
Investors wanting to get into Langford have the option of projects offered by developers such as Western Canadian Properties Group. Its latest condo-rental tower offers two-bedroom condos from $429,900 with a turnkey rental-management system in place. Projected rental income is $1,800 per month, and completion is scheduled for June 2020.
For long-term, accredited investors, Vancouver-based Evest Funds is pitching a Langford land assembly that will be developed into multi-family and seniors housing. Investors can participate starting at $50,000. 
In Nanaimo, older apartment buildings sell for $120,000 to $175,000 per suite and rents are in the $1.50 per square foot range, Blair said. Newly built units, however, are renting for $2.50 per square foot, or  from $1,350 for a one-bedroom to $1,750 for two- bedroom apartments. Capitalization rates in the city are around 5 per cent.
Blair also recommends the Comox-Courtenay area of Vancouver Island, where apartment buildings sell for $140,000 or less, two-bedroom apartments rent for around $1,600 per month and typical cap rates are in the 4 per cent to 5 per cent range.
Other Island markets worth consideration include Campbell River, which has posted the highest increase in average home prices, at 10 per cent, on Vancouver Island over the past year. The major rental market there is projects destined for the over-age-55 sector. 
Blair said high cap rates are possible in more remote Island centres, such as Port Alberni and Port Alice, but he cautioned that "management is imperative" due to the transitory tenancy.