From the rooftop decks in the penthouse suites of the Lauren, a recently sold-out development in Squamish, residents have a 360-degree view across to Howe Sound, up to Mount Murchison and east to the Chief, the defining geographic feature of the town known as the outdoor recreation capital of Canada.
The building and location meet the copious criteria of Performing Equity, the real estate development and investment team, whose members created the Lauren and more than 100 other multi-family and resort properties across Canada, in the U.S. and in Mexico.
"The first things we look at are long-term fundamentals," says John Murphy, a real estate veteran who heads sales and marketing for Performing Equity. "One of the reasons we're focused on B.C. right now is because we believe it has the best long-term potential. We are cautious, in that we certainly don't believe it's at the bottom of the cycle, but we also think if you're acquiring today at the right price, you're going to get the best return 20 years out."
In opting to move ahead with a project, the team analyzes a project's potential using an array of criteria.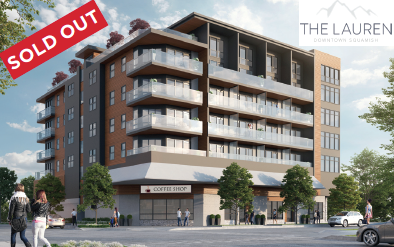 "We start with a broad mix of about 21 items and drill it down," he says. "When we're looking at an area, we consider a number of key factors."
Top among these are the potential for long-term value increase, desirability and the area's employment prospects. Not surprisingly, several of Performing Equity's projects are in Squamish, where the population is growing faster than almost anywhere else in Canada, as well as in the similarly spiking Okanagan.
Its team has created a particular niche having been active in more than $1 billion in acquisitions and developments across about 120 projects.
"Affordability and value are our cornerstone", Murphy says, whether it is an eight-unit multi-family or a master-plan for an 1,100-home community. In the Lauren, for example, noted Vancouver architect John Sproule designed "ultra-efficient" floorplans, so that square footage that would typically accommodate one bedroom was designed to maximize space and accommodate a second bedroom. These sold from just under $300,000. Twelve penthouses retained a comparatively modest 1,000-square-foot floorplan and sold for less than $700,000.
The Lauren actually hit the demographic mark for two kinds of typical Squamish buyers: the first-time homebuyers for whom location, and affordability are key, and downsizers from the city for whom tight budgets are less of an issue than spectacular views and quality amenities.
Another niche Performing Equity has found for itself is inviting people to enter the real estate market at what Murphy terms the wholesale level.
"Limited partnerships aren't that unusual, but our structure and the way Performing does it are," he says. "We write our documents in favour of investors because our principals are also investors. They invest alongside our partners in addition to having a role as a general partner".
"Also, there is no markup. That's fairly unusual because, in the business of limited partnerships, we've all seen a very substantial fee that's charged on the way in, or an acquisition fee. We do it at cost so nothing is hidden under a shell".
"At Performing Equity, the investors' capital is preferred," Murphy explains. "Investors get their money out first. At an 8 percent return, no money goes to the general partner even though they didn't take an acquisition fee at the start, or a disposition fee. After capital is returned, the next distribution is preferred interest to the investor. That's a huge incentive for the general partner to make sure a deal performs. They're only compensated if the investment performs as expected."
Time is also of the essence. By purchasing land that is often fully permitted, investors can get their returns in a relatively short time. The Lauren, for example, has projected returns of 40 percent in about 22 months.
Despite extraordinary returns like these, Murphy insists the Performing Equity model is very conservative.
"We get a great deal on the land and we're also able to get that return because of short timelines. Lots of projects go years before they are actually into development. In our case, it's months."
Vancouver-based Performing Equity Ltd. is a subsidiary of Drever Capital Canada, which is headed by Michael Drever, founder of CruiseShipCentres. Drever is a multiple Canadian Franchise Association Franchisor of the Year and an inductee in the Cruise Lines International Association Hall of Fame.
Murphy credits Drever's diverse background for the success of Performing Equity's projects.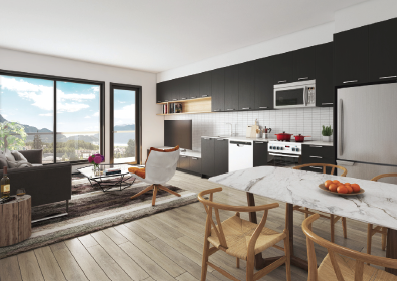 "Mike gets really involved in the design of the project," Murphy says. "His background in travel and hospitality ties right in with how the units are going to perform later and how the building feels, and its desirability." The company has attracted a core group of repeat investors – many of whom are real estate professionals.
"It's basically a better way to invest in real estate," says Murphy, noting the company's "virtual apartment building" theory of diversifying a real estate portfolio across a range of projects. Another advantage, he says, is participating in a development with professional management rather than trying to master the ins and outs of being a landlord and manager.
With investments in some projects beginning at $25,000, the entry point is not hugely onerous.
One of the next projects will see a development on one of the most visible sites in Squamish – almost an entire block where August Jack's motel and a community garden currently sit.
"It's probably the nicest site in Squamish, bar none, partly because it's on the downtown Main Street. You can walk to everything and you enjoy unobstructed views of the ocean and the Chief," says Murphy.
Like everything Performing Equity does, he says, this new project will be imagined from the standpoint of the end user and investor.
"If you had an investment unit in that building, how would it function?" he asks. "We start with the end in mind."
Next: Alberta rebound
Previous: Invest like a pension fund