Travellers passing through Richmond will soon have the opportunity to sleep in the Lower Mainland's first "capsule," or pod, hotel.
Opening in April, Panda Pod Hotel, located near No. 3 Road and Granville Avenue, hopes to provide convenient accommodation at affordable rates. The catch, however, is that guests must be willing to spend the night in a "sleeping pod."
These sleeping pods are stacked two high and are just large enough for a mattress, an adustable small side table to use as a workspace and hooks to hang clothes. The pods will also feature adjustable ventilation and a privacy screen to pull down over the entrance. Each guest is also given access to shared washrooms and a place to securely store carry-on luggage.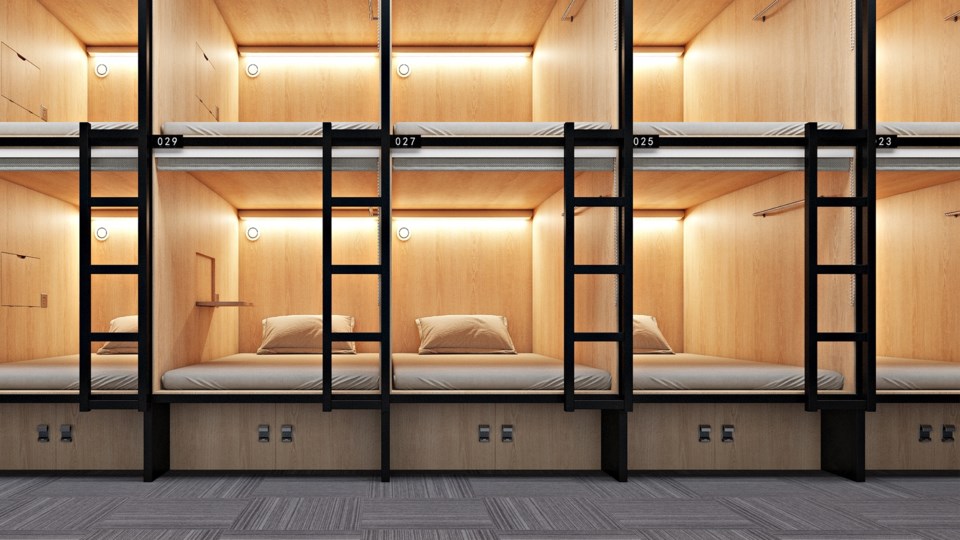 "Capsule hotels are well-known establishments originated in Asia and have already gained grounds in dense to other cities like New York, London and Sydney, etc. Panda Pod is the first of its kind in Vancouver," said Sharon Cheung, general manager of Panda Pod Hotel in a press release.
The hotel has 64 single-occupancy pods, divided into male and female dorms. Unlike popular pod accomodations throughout Asia, Panda Pod Hotel says their pods are designed to be 30 per cent longer and wider than their Asian counterparts.
"Throughout the past 10 years, the hotel daily average rates and occupancy rates have been on the (rise)," Cheung said. "We would like to offer a more economical accommodation alternative for the travellers with budget concern."
While the hotel is offering a special introductory rate of $49 for stays until the end of May, prices on Booking.com show the cost of a one-night stay to be around $60 before taxes thereafter, and upwards of $75 in the summer.