The bulls have spoken on the outlook for Metro Vancouver commercial real estate – but some inconvenient data points to disruptions in its unprecedented 10-year run to become Canada's premier commercial and industrial market.
Vancouver has the second-lowest office vacancy rate and the highest lease rates in the country. The industrial market is setting new records for demand and prices, and the retail sector has nearly four million square feet of new bricks-and-mortar stores under development. 
The Metro population is expanding with about 45,000 immigrants and 8,000 people from less-blessed provinces expected to arrive this year.
Even with total commercial and industrial sales down 45 per cent through the first three quarters of last year and dollar volume off 43 per cent, to $6.92 billion, compared to a year earlier, confidence remains unshaken.
"Higher employment levels in the services and manufacturing sectors are anticipated to bring an increased number of professionals to [Metro Vancouver] in 2020, ultimately supporting commercial real estate development," said Keith Reading, director of research at Morguard. "Vancouver's economy is forecasted to expand at an above-average rate in 2020."
"There are many reasons for optimism heading into 2020," Jason Kiselbach, senior vice-president and managing director for CBRE, told an outlook panel at the October 29 Vancouver Real Estate Strategy & Leasing Conference. At 2.4 per cent, Vancouver's downtown office vacancy rate is the second lowest in North America. Metro Vancouver office vacancies are 3.8 per cent, the lowest in Canada, which has an average vacancy of 11 per cent. 
Industrial space availability has plunged to 2.5 per cent, a near-record low. New supply is being snapped up quickly and declining vacancy is causing rental rates to rise steadily in both the office and industrial sectors, Kiselbach told the panel.
"Rising rents might not be great news for tenants, but it makes new construction more viable in the face of rising costs. New supply is the key to alleviating space constraints and rising costs," he said. 
"The challenge for Vancouver is the lack of product, not purchasers," stated a December report on Metro Vancouver real estate from Altus Group. The commercial and investment markets are forecast to match the pace of 2019, Altus concluded, "with some upside potential for new home sales."
Residential plays a huge part in Metro Vancouver's economy and, with housing sales up 88 per cent in December compared with a year earlier, sales in some areas – and prices across the board – were higher than during the peak of 2015, despite aggressive government attempts to crush housing demand.
Office space
There is six million square feet of new office space under construction in Metro Vancouver, three-quarters of it in the downtown, but development still lags demand, Altus noted. In the first half of 2019, $2.1 billion worth of office space was sold.  a near record high. The billion-dollar sale of the Bentall Centre office complex in downtown Vancouver was soon followed by an announcement from its U.S. buyers that it will expand with a 500,000-square-foot commercial tower.
Downtown Vancouver office lease rates for Class A offices are now $55 to $95 per square foot gross, compared to $50 to $90 in downtown Toronto and a maximum of $45 per square foot in central Montreal. Avison Young said much of the new Vancouver office space is already pre-leased before spec construction reaches the halfway point, such as the Post makeover of the old Vancouver post office, where Amazon has leased all 1.6 million square feet.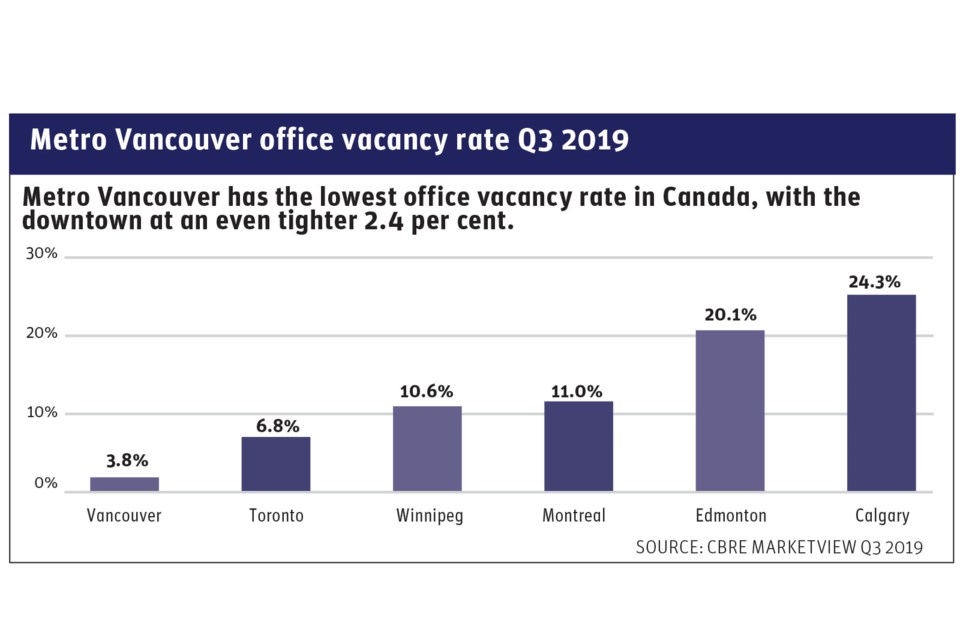 But Vancouver's high-flying office sector will face an elephant-sized challenge this year: the 678,000 square feet of office space booked to WeWork, the troubled co-working lease leader.
WeWork filed paperwork in August to hold an initial public offering, based on a valuation that was in the US$47 billion range. That value plummeted to less than US$10 billion a month later. The New York Times quoted respected hedge fund manager Bill Ackman, who said the company's value "has a high probability of being zero." 
The largest of the B.C. sites that WeWork had announced plans to occupy comprises 170,000 square feet at BentallGreenOak's future B6 tower, at 1090 West Pender Street, to be completed in the second quarter of 2023.
"Vancouver is one of the top-performing markets out of all the cities that they operate in within North America," said Kiselbach. "Our understanding is that anything [WeWork] has committed to in Vancouver they will move ahead with."
Colliers International's senior managing director for Vancouver, Maury Dubuque, added that Vancouver's office real estate market is so tight that losing a large tenant in an under-construction project would likely not cause much anxiety.
One of WeWork's competitors may want to snap up the space, he said.
Colliers represents national co-working space provider Spaces, and Dubuque said that company is looking to add to its 560,000 square feet of office space in the Vancouver region. One of Spaces' sites is 68,000 square feet at the former Tom Lee Music location on Granville Street. 
Retail trends
In December, San Francisco-based international retail research firm Leanplum declared that "retail is dead," noting that "consumers are shunning bricks-and-mortar this holiday season with over 95 per cent choosing to buy half or more of their gifts online."
"Not in Vancouver," quipped Neil McAllister, senior vice-president and strategist with commercial real estate firm Lee & Associates.
Metro Vancouver has a relative shortage of shopping venues, he noted, though the region posted an average of $3.3 billion in monthly retail sales in 2019, third highest in Canada.
Metro Vancouver has 11.6 square feet of shopping centre retail space per capita, according to a 2018 Altus Group study, compared to 18 square feet per capita in Calgary, 19.5 square feet per capita in Edmonton and a national average of 13.1 square feet per capita. 
Nearly four million square feet of new retail development is being built or planned in Metro Vancouver, including a 150,000-square-foot addition to the McArthurGlen Designer Outlet mall in Richmond, 1.4 million square feet underway at the City of Lougheed on the Burnaby-Coquitlam border that is expected to complete in the first quarter of 2020, and an 80,000-square-foot shopping mall being wedged beneath the Vancouver House condo tower at the north end of the Granville Street bridge. This Westbank project, which opens this spring, includes Vancouver's first Fresh St. Market, a grocery outlet, and the first Momofuku Noodle Bar, all clustered below a $4.8 million chandelier spinning from the bridge deck.
As well, 105 retail properties changed hands in the first nine months of last year, worth $454 million, Lee & Associates reports. These included a Chilliwack shopping mall that sold for $87.4 million and an 11,000-square-foot retail site on South Granville that sold for $1,265 per square foot. 
Market headwinds 
But both retail and office sales are slowing rapidly, according to the Commercial Edge, a survey from the Real Estate Board of Greater Vancouver that tracks commercial transactions through the Land Title and Survey Authority of British Columbia.
Recent data shows a sharp slowdown in both retail and office investment.
In the first nine months of 2019, 484 properties, compared to 630 sales in the same period a year earlier, and the dollar volume plunged 71 per cent to $1.19 billion from the $4.2 billion in the first three quarters of 2018.
The value of commercial land sales, a harbinger of future development, nosedived to $1.36 billion through the first nine months of 2019, down 78 per cent compared to the $6.35 billion tallied a year earlier, the real estate board reports. Just 304 land parcels had sold by the end of the third quarter, compared with 1,360 transactions in the same period a year earlier.
In the latest BC Assessment roll, Metro commercial properties have seen gut-wrenching value swings of minus 15 per cent to plus 15 per cent.
"We first saw signs of moderation during the 2019 property assessments," said assessor Tina Ireland, adding that a "ripple effect" of moderating prices is expanding across the province.
"Commercial properties [evaluations] have stabilized within the Lower Mainland," she said.
Industrial shortage
"[Metro] Vancouver is one of the tightest industrial markets in the world and space is in short supply," noted Jeff Miller, head of industrial at Oxford Properties, adding the industrial shortage demands "bold solutions."
For Oxford this solution is a Canada's first multi-storey heavy industrial project planned for Burnaby's Riverbend Business Park. The second storey, which is accessible to full-size transport trailers via a ramp, consists of 270,000 square feet, with 28-foot clear heights and a 130-foot truck court.
Light industrial stacked space is common in Vancouver, where three- and-four-storey buildings were selling out at up to $1,000 per square foot during much of last year. 
In the third quarter of 2019, 124 industrial land sales were reported, with the total dollar volume at $415 million, up  41.7 per cent from the same period in 2018, reports the Commercial Edge.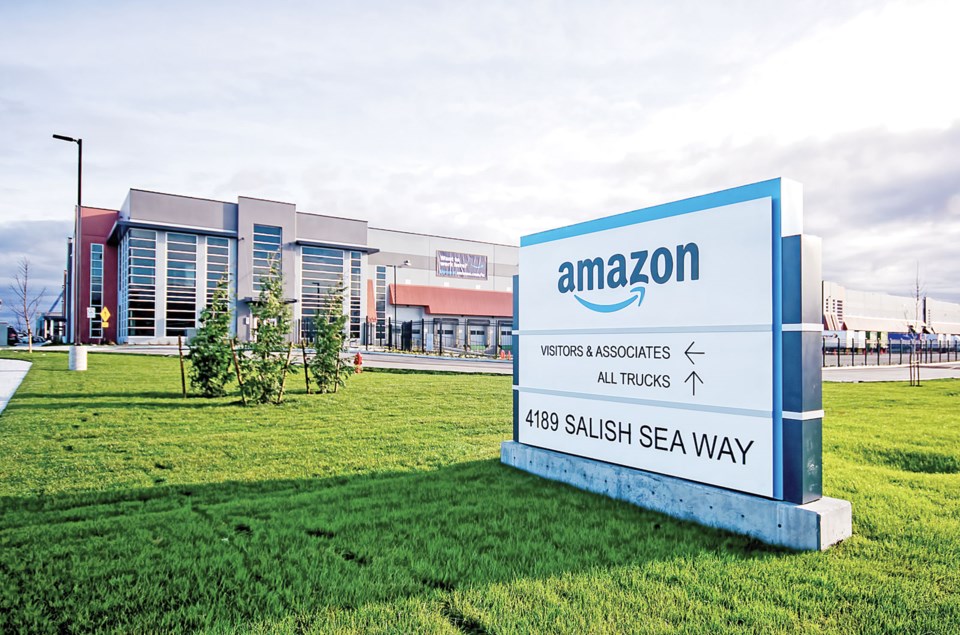 Vancouver's industrial demand is being driven by last-mile logistics as online retailers such as Amazon, Walmart and IKEA build and buy up warehouse space, accounting for at least 2.5 million square feet last year, according to Avison Young, and lately by a surging film and TV industry.
Martini Film Studios, as an example, is building a new 600,000-square-foot production facility in Langley, the largest film and television production studio in Canada.
Industrial demand has driven prime land values to more than $20 million an acre amidst consistent warnings that the region is running out of industrial real estate. A mid-year report by Metro Vancouver's Industrial Lands Strategy Task Force came to a stark conclusion: all of the undeveloped industrial land will be gone within 22 to 28 years, "assuming 100 per cent of the undeveloped inventory is available for industrial development," which seems unlikely due to parallel demand for residential and other commercial space.
The BC Real Estate Association (BCREA) cautioned that the commercial real estate market is cooling in step with the B.C. economy.
"Provincial economic activity continued to slow in the third quarter of 2019, with declines in retail and manufacturing sales offsetting a gain in wholesale trade," the BCREA reported.
The BCREA's commercial leading indicator – an index which has seen a hockey-stick-style upward trajectory since 2019 – fell to 135.3 in the third quarter of last year, unchanged from a year earlier.