Prefabricated homes are seeing a resurgence, and this is also true in B.C.'s laneway home sector.
Laneway homes – or coach houses, as they're also known – are seeing a surge in popularity as various municipalities have embraced the housing type as part of the gentle densification of single-family neighbourhoods. But traditional construction of such "accessory dwelling units" can be costly, often logistically challenging, weather-dependent, and offers no particular green credentials.
Enter modular construction, where the laneway home is precision-manufactured in the climate-controlled environment of a factory. No delays for inclement weather, no water damage from rain on site, no unforeseen costs.
MyLaneHome has partnered with Horizon Construction to offer modular laneway houses. "We see modular construction as the future of laneway housing," Jordan Binotto, director of operations at MyLaneHome, told Glacier Media at the company's recent B.C. Home + Garden Show exhibit. "It allows us to drastically cut down on the manufacturing time, so while we are preparing the site and foundation, we're building the home in the weather-free factory. We can then install and finish it in about two weeks. The client is enjoying their home in a fraction of the time of traditional construction."
Although these laneway homes cost about the same as a traditionally built one, there are other huge advantages. Part of the appeal, Binotto says, is a significant reduction of the stress associated with a construction site at home. "A lot of construction stress is difficult for anyone to manage, so this allows us to cut down on the stress, the mess, and the time," said Binotto. "And with the finished product, you can't tell, either inside or outside, that it's modular construction. There's no reduction in quality – it's actually better."
All homes are built to at least provincial and municipal standards, whichever is the highest. Further, he adds, the prefabricated nature of the home allows for minimal materials waste in the factory, which creates environmental savings.
The company has built two pilot homes, one in Vancouver (see image above) and one on Jones Avenue in North Vancouver, and is hoping to eventually have a full-sized model home for customers to walk around at the factory. In the meantime, MyLaneHome is offering tours of its North Vancouver home on Friday March 8 through Sunday March 10 (more information here).
Mass timber for modular homes
Rockridge Fine Homes is taking things a step further by building its prefabricated laneway homes out of cross-laminated timber (CLT), a form of eco-friendly mass timber. The company brought a 200-square-foot micro-unit into B.C. Place Stadium for the B.C. Home + Garden Show.
Company president Ken Toews told Glacier Media, "There's no secret there's a housing affordability issue. So while we love building custom homes, we also recognized the need and wanted to take what we've learned into a smaller square footage."
The company started building units out of shipping containers, but found that it was very challenging to achieve the necessary energy standards, so they switched to modular construction in mass timber.
"What we found when meeting Vancouver's building codes, which are a step above B.C. building codes, it was very difficult to attain those with a shipping container. So we switched to CLT, which is a locally grown, sustainable resource. But we also wanted to create modules that we can lift and put into place like a shipping container, and to be able to crane them into tricky spots.
"You could use these units as a laneway home, as a backyard Airbnb, or as a cabin on a remote plot of land," added Toews.
The interior finish on the exposed CLT offers a trendy, Scandinavian-style, blond-wood panelling effect – not the unattractive, compressed-fibre wood that you might expect. The modules are totally airtight, highly insulated, with super-high energy efficiency and sound insulation.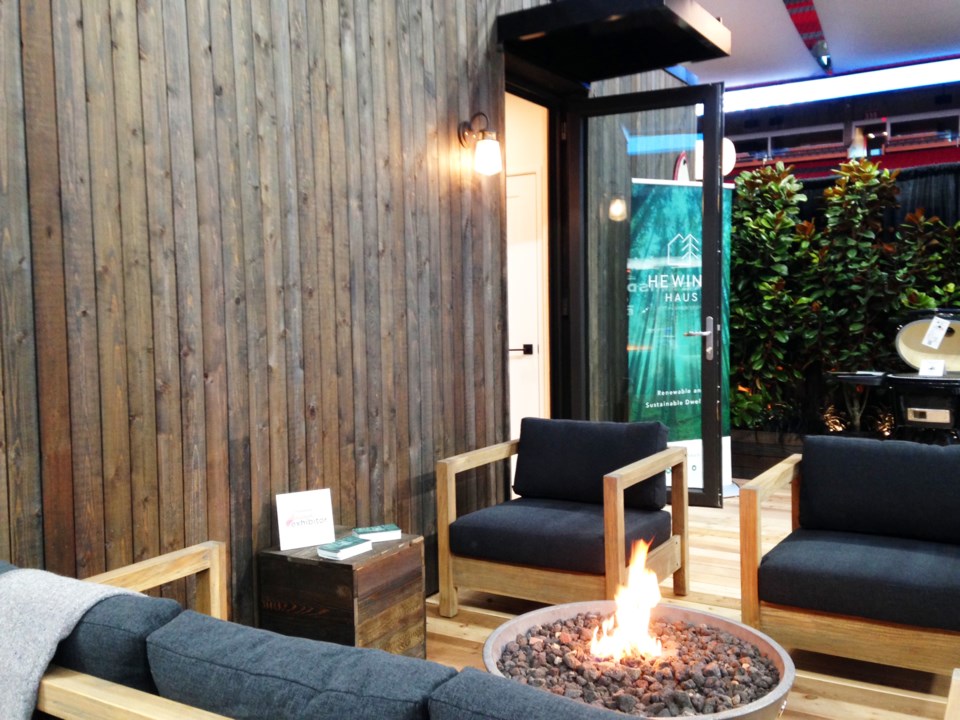 These homes are also great for environmentally sensitive areas, as the homes can sit on concrete slabs, rather than requiring foundations. They can be built in various sizes, and combined horizontally or vertically to create a custom-sized home. The finished units cost around $400 per square foot, so a 200-square-foot micro-studio like the model at the home show would cost about $80,000, plus the cost of connecting services. A perfectly livable one-bed unit could be created in 400 square feet for around $160,000, and upwards from there.
Like MyLaneHome, Rockridge is focusing on achieving extremely high quality with minimal material and energy waste, in a short amount of time.
CLT coming of age
Rockridge uses Penticton firm Structurlam Mass Timber Corp. as its CLT supplier – a company that has already seen some considerable take-up of its products in projects such as UBC's 12-storey student housing Brock Commons. CLT also being used on a number of six-storey multi-family condo projects, particularly by Adera Development Corporation, which completed its CLT-built Virtuoso condo development at UBC last year and is now building another in Coquitlam, called Duet.
Hardy Wenztel, CEO of Structurlam, told Glacier Media in an interview, "CLT and other forms of mass timber have been used widely for more than two decades in Europe. Although mass timber is a nascent material here in B.C., we're at a point where we're seeing a groundswell of product acceptance in the marketplace – and B.C. is at the North Amercican forefront of understanding and proliferation of the product. That said, the U.S. is coming up quickly on our heels."
He outlined the benefits of mass timber as "building faster, building sustainably, building economically and building higher quality, compared with steel and concrete buildings. We can prefabricate our CLT in a climate-controlled workshop using computer-controlled robots, within a tolerance of a millimetre – compared with steel framed buildings, where the tolerance can be half an inch."
Wentzel says that adoption of mass timber is happening "slowly but surely" and that building codes are being changed to allow for 12-storey engineered-timber buildings. It is theoretically possible to build any height of building out of mass timber, he said, but eight- to 10-storey buildings are the "sweet spot" in terms of what's needed.
"I really believe mass timber will become a mainstream building product – I just can't tell you when," Wentzel added.