Richmond's first multi-level industrial strata development launched this March, with more than 55 per cent of the 65 units already pre-sold to a mix of owner-occupiers and investors.
With the tightest industrial vacancy in the country, rising lease rates and Richmond land prices topping $3 million per acre, going up is now about the only option to meet industrial demand, agents say.
Developed by Alliance Partners and Union Allied, the project at Alderbridge and Shell Road will provide small-bay industrial and office space and room for traditional manufacturing and warehousing, according to Alliance Partners CEO Gordon Yeh.
Avison Young reports that lease rates for industrial have been increasing about 10 per cent a year for the last four years in a Metro Vancouver market with a vacancy rate of 1.5 per cent. A recent 15-acre industrial land sale in Richmond went for $3.2 million per acre, the agency added.
"Buying makes more sense for a growing number of businesses in the area" said Kevin Kassautzki, principal at Avison Young. He added, "Multi-storey industrial strata has been successful in Vancouver, but this is the first of its kind in Richmond."
With approximately 200,000 square feet on 4.7 acres, the new project will offer showrooms, warehouse space and office space with 23-foot clear ceilings, individual ground floor loading doors and access to full-sized freight elevators. An outdoor walkway will connect the units and windows will allow for large amounts of natural lighting.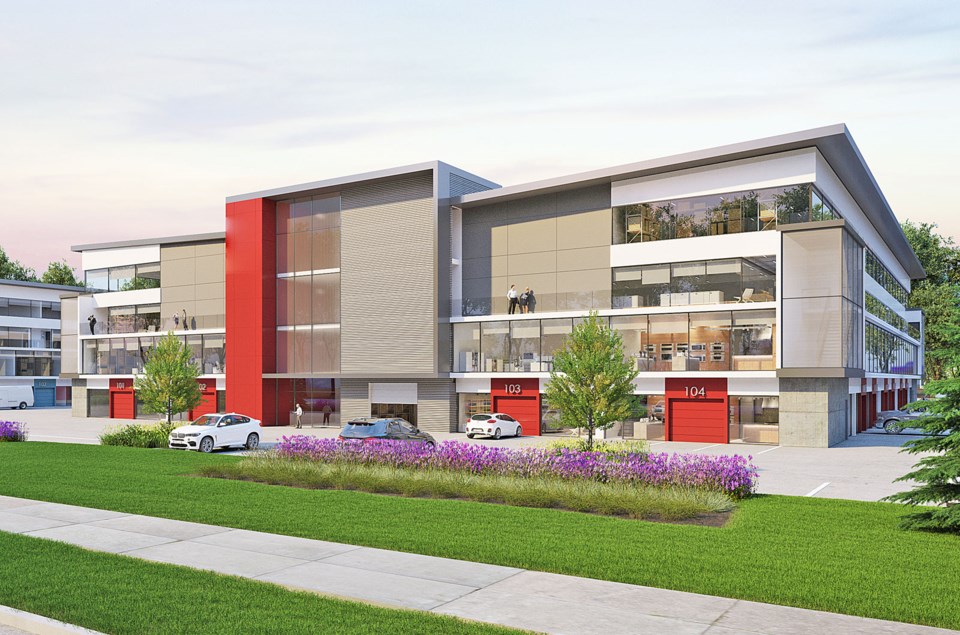 One of the new design elements is the freight elevators to the second floor that allow for cars and vans.  Current buyers on the second floor include a tiling manufacturer, furniture showroom, a gym and several start-ups.
The units include floor plates up to 3,000 square feet. Pricing starts at around $1.1 million, or $450 per square foot. The project is expected to complete in the autumn 2021.