The Trans Mountain pipeline is on a fast track from the oilsands to tidewater and the multi-faceted Alberta economy is set to rebound in 2020, according to the provincial government and other analysts.
"Alberta will return to pre-recession levels in 2020," forecast the Alberta budget released in November. Both the Conference Board of Canada and ATB Financial are seeing a similar trend, forecasting 2 per cent economic growth next year.
A recent provincial labour study shows that it is agriculture – benefiting from recent lifting of a ban on meat exports to China – manufacturing, technology and wholesale and retail trade, not the oil and gas sector, that are leading job growth in Alberta.
Real estate developers are getting ready to meet the recovery, launching two massive new projects in Calgary and Edmonton.
$4.5 billion, 1,200-acre retail play
Developer Canderel and the Tsuut'ina First Nation have started the first phase of Taza, a multibillion-dollar development on Calgary's southwestern border.
Work is now progressing on a 45-acre mixed-use commercial project with the Shops of Buffalo Run, anchored by a 150,000-square-foot Costco that is already under construction. Costco was announced as the anchor tenant on October 23. Taza is one of the largest First Nations developments in North America and among the largest real estate plays in Canada.
The Shops at Buffalo Run, a regional shopping hub, will offer an additional 250,000 square feet of retail adjacent to the new Costco with construction continuing into next year and occupancy beginning in the summer of 2021. 
The entire Taza mixed-use development will consist of 1,200 acres of development on Tsuut'ina Nation land (bordering Calgary), and will eventually include 25 million square feet of real estate.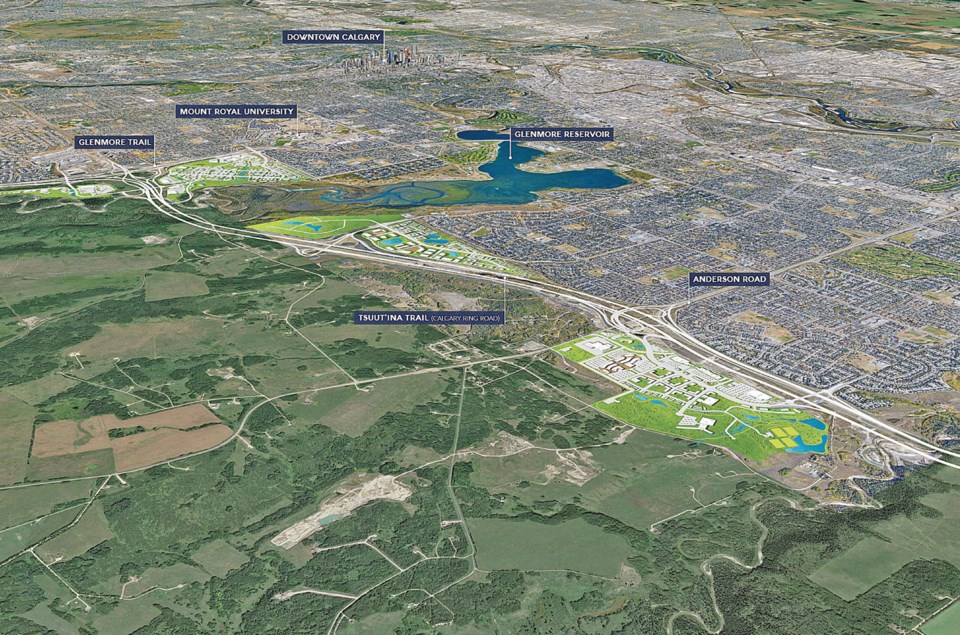 William Briscoe, CEO of Canderel MDC Development Management Inc., told the Real Estate News Exchange the Taza development would eventually include:
•Taza Park – 2.5 million square feet of commercial and 2.3 million square feet of retail and more than 4,000 multi-family units;
•Taza Crossing – two million square feet of commercial and 2,500 multi-family units; and
•Taza Exchange – 1.5 million square feet of commercial and 1.2 million square feet of retail.
In addition, there will be 1.5 million square feet of hospitality and 1.9 million square feet of entertainment and specialty uses, Briscoe said.
Total cost of the development is estimated at $4.5 billion, according to Alberta Major Projects.
 
Stadium Yards, Edmonton
The old rail yards in Alberta's capital city are the focus of a new seven-acre, rebranded redevelopment by Rohit Land Development, Brookfield Residential and the City of Edmonton, which is investing $30 million into the project (main image, above).
A new $12 million pedestrian crossing and 1.6-mile pathway already link the site to the Commonwealth Stadium and the Stadium transit station.
Once known as the Muttart Lands, the project has been renamed Stadium Yards and will be a mixed-use urban "village."
The site will include housing for up to 2,000 people, with a commercial main street and parks. Situated next to the Stadium LRT station, the site is walking distance to Kinnaird Ravine, Dawson Park, the North Saskatchewan River valley, Commonwealth Recreation Centre and nearby amenities like grocery stores, according to Rohit.
In addition to housing in a series of low-rise buildings, Rohit will be developing 7,500 square feet of commercial space including a High Street with restaurants, cafés and services that will bisect the development. Two large community plazas, designed by Montreal-based landscape architect Claude Cormier, are included in the village. At final build-out, Stadium Yards will feature 700 to 1,000 multi-family homes. The first phase will include 260 units of high-end rental housing. The first tenants could be moving in by the summer of 2020.