When one thinks of wide-open Alberta space it is often ranches that come to mind, not acres of concrete and carpeted offices in the downtown of the province's biggest city.
Yet that is the reality in Calgary where the office vacancy rate rose once again, towering to 24.6 per cent in the third quarter of 2019 to remain the highest in Canada.
Total empty office space downtown covers 11.4 million square feet, equal to more than 240 acres, with 72 per cent of that in head leases and the remaining 3.2 million square feet in sublease space that has been shoved back onto the market. 
"Almost half the sublease space currently on the market is set to expire in the next five years," according to a late-2019 survey by Avison Young, Calgary. By that time, the commercial agency forecasts, Calgary's office and economic recovery could be underway.
But the downtown office absorption went negative in Q3 2019, and Avison Young's most optimistic forecasts of 800,000 square feet being taken up each year – which is nearly twice the pace seen in 2019 – would mean Calgary's downtown vacancy would decline to 16 per cent by 2024. If the current absorption rate continues, the vacancy rate would still be in the 20 per cent range four years from now.
The Conference Board of Canada, in its provincial outlook released in January, said the start this year of the Trans Mountain oil pipeline expansion (TMX) from the Alberta oilsands to B.C. tidewater will help drive Alberta's economic growth to 2.4 per cent in 2020, up from 0.2 per cent in 2019, and to 3.1 per cent in 2021. The board, however, does not expect the TMX to begin carrying oil until 2023, or Alberta's real business investment to recover until 2024.
Meanwhile Avison Young counted 13 office offerings in downtown Calgary with more than 100,000 square feet as one contiguous block. These blocks of space represent 28 per cent of the total office space vacant downtown.
Among these giants is the 80,758-square-foot fourth floor of the 20-storey Gulf Canada Square tower at 401 9th Avenue SW, a Class A mixed-use building that covers a total of 1.1 million square feet. At 697  feet in length, the vacant space covers two city blocks downtown.
Gulf Canada Square is managed  by GWL Realty Advisors. A major oil-and-gas tenant had held the fourth floor and it came back to GWLRA through a lease renegotiation.
"The space has not leased, but we have had a few interested parties since our broker open house in November," said Lucas Beck, senior manager, leasing, for GWLRA on January 8. "Given the massive floor plate, we have four e-scooters on the floor to make it easier to get around on a tour."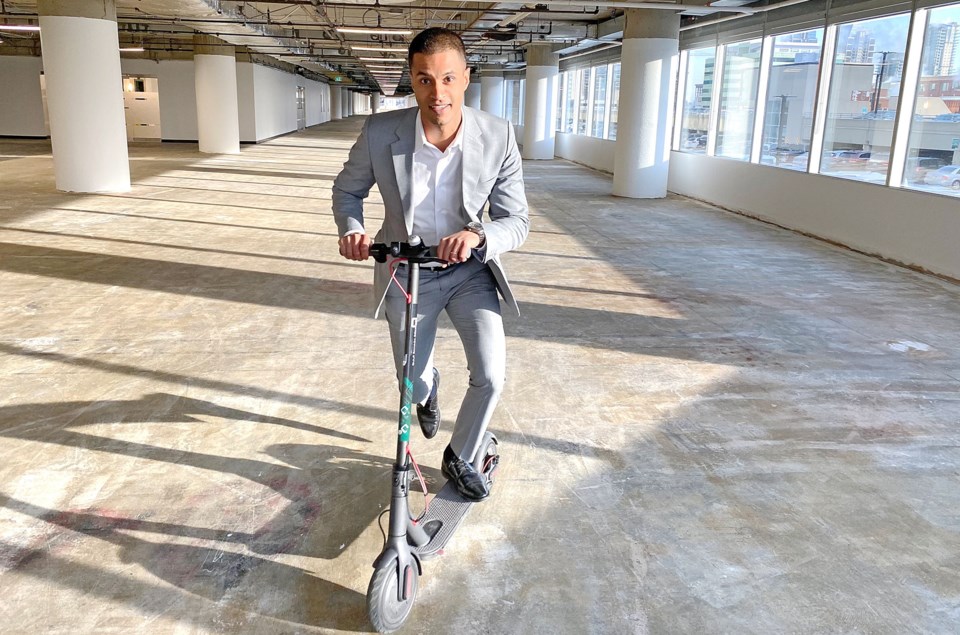 Beck said the lease rate is dependent on the term but "it would be market rate for Class-A space and enough TI [tenant improvement] to build out the space to a reasonable spec."
The current Class A lease rate in downtown Calgary is around $23 per square foot, according to Avison Young.
Edmonton
In comparison with Calgary, Edmonton's downtown office market is "stable," according to Colliers International. 
In a Q3 survey, Colliers found 15.3 per cent of the city's downtown office space vacant, representing just over 2.8 million square feet (the equivalent of 64 acres). This is a slight improvement from the 15.5 per cent vacancy rate in the second quarter of 2019.
In Q3 2019, the downtown recorded nearly 116,500 square feet of office absorption in the financial district but went negative by 57,750 square feet in the government district, which is worrisome.
Alberta's new government aims to balance the books by 2023, and this could "potentially lead to negative [office] absorption as public-service and not-for-profit groups may lose funding, which could cause them to downsize," Colliers cautioned.
Currently, the government represents 5.3 million square feet of Edmonton's downtown office space and more than 13 per cent of it is already empty, including 207,000 square feet of Class A sublease space.